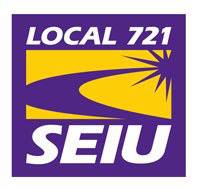 SEIU Local 721

Membership Coordinator
Membership Department
Based in Los Angeles, CA
WHO WE ARE:
SEIU Local 721 is a dynamic, and fast-growing organization recognized as one of the largest and strongest union of publicly funded employees in the nation. We are on the forefront of local politics, defending public services in the face of budget challenges, organizing workers in the public service sectors and are key players in national reform efforts. We have over 170 staff members covering 7 counties. Our more than 90,000 members provide public services in diverse fields, including health care, social services, special districts, private non-profits, libraries, courts, parks and recreation, public works and mental health in cities and counties throughout Southern California. Through grassroots organizing, identifying, and developing leaders within our Union, and organizing worker political power, we are on the front lines of holding government accountable, ensuring efficiency, tackling waste, and improving services.
RESPONSIBILITIES:
The Membership Coordinator is a salaried leadership position of the Membership Department and reports to the Director of Operations. The primary responsibility of this position is to lead the membership department and to ensure that the local receives membership dues, and information from employers in an accurate and timely manner.
EXAMPLES OF DUTIES:
Supervise staff who collect funds, manage, process, analyze and audit employer-provided data and union records; determine variances; act to document, reconcile and resolve variances per Union policies and procedures;
Analyze the reports produced by staff to ensure accuracy of the reports and other statistical information;
Act as a point of escalation and problem resolution for the Membership Department staff who work with employers to set up payroll deduction, create and improve employer related HR processes;
Communicate and collaborate with staff and leaders of internal departments and their direct reports;
Manage and review root cause analyses conducted by the staff. Provide recommendations and implement solutions to improve root cause analyses, processes, and procedures;
Train, develop and evaluate staff;
Coach Member Analyst on how to deal with challenging member service call and membership inquiries; produce reports as needed
Manage and review with the team the process of dues rate changes; assure accurate and timely dues rate changes; produce a quarterly report for Leadership
Supports Field Campaigns/Union Elections as needed with membership inquires
Create, document, review, implement and update Standard Operating Procedures and processes;
Audit and report staff findings for rebates and refunds;
Review contractual analysis prepared by staff and make recommendations to improve collective bargaining agreements;
Review the dues policy yearly, and recommend changes as needed to the Executive Board
Works closely with our Legal team to mitigate any issues related to membership
Ensure department-wide security and integrity of all Local 721 data;
Database troubleshooting;
Create, manage, and track department-wide audit metrics;
Other duties as assigned
QUALIFICATIONS:
Experience managing and developing staff (managing unionized staff desired)
Highly efficient teamwork style complemented by independent work habits
Outstanding ability to simultaneously manage numerous demands through to completion, involving voluminous detail, often with quick turnaround
Demonstrated ability to prioritize and organize work with high degree of accuracy and attention to detail
Excellent oral and written communication skills
Enjoy large, complex, fast-paced environments
Advanced skills in Word, Access, Excel, Outlook, and Windows including understanding of relational databases, ability to write queries and reports; fluency in importing, exporting, and manipulating files among the Microsoft Office applications
Advanced SQL skills highly desired
Experience participating in a leadership team
Commitment to progressive social change and activism
Willingness to work long hours, including some evenings and weekends
Customer service experience, either with public employers or with other departments of an organization.
Familiarity with collections processes
Work history in the non-profit world desired (knowledge of unions an extra plus)
MINIMUM REQUIREMENTS:
Basic knowledge of worker's rights
Willingness to work long and irregular hours and participate in all union wide activities.
Valid driver's license, working automobile and valid auto insurance with minimum level of coverage required by the union.
Commitment to social justice and building power for workers
SALARY AND BENEFITS:
Salary is commensurate based on experience.
Fully paid benefit package including medical, dental, vision and a generous life insurance.
TO APPLY:
Mail, fax or e-mail a cover letter, detailed résumé, two-page writing sample and the name, job title, address, and phone number of three professional references to:
Human Resources Department
SEIU Local 721 Suite 100
1545 Wilshire Blvd.
Los Angeles, CA 90017
E-mail : careers@seiu721.org
To be considered, your résumé or cover letter must show how you meet each of the job requirements listed above.
SEIU Local 721 is an affirmative action employer and encourages applications from all qualified candidates regardless of race, ethnicity, age, sex, sexual orientation, marital status, religion, or disability. SEIU Local 721 works to ensure fair treatment of applicants and employees and actively enforces zero tolerance policies against discrimination and sexual harassment. Women and people of color are encouraged to apply.
Position will remain open until filled.
WHEN APPLYING: Be sure to indicate that you saw this information at UNIONJOBS.COM.