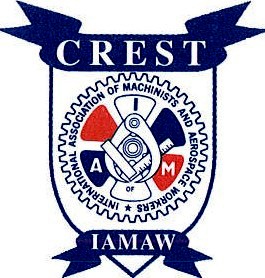 IAM CREST
International Association of Machinists & Aerospace Workers
Corporation for Re-Employment and Safety Training

Senior Accountant
Based in Upper Marlboro, MD
IAM Corporation for Re-Employment and Safety Training (CREST) is a 501(C)(5) non-profit organization sponsored by the International Association of Machinists and Aerospace Workers (IAM) designed to provide job re-entry and safety training services.
CREST has a mission to return injured workers to productive employment safely and promptly. C.R.E.S.T. also provides training in Safety Awareness, Accident/Injury Investigation, Ergonomics and Hazardous Materials Training. CREST offers a partnership in the workplace so that workers and employers can work together for safety, efficiency, and productivity.
Position Summary:
The Accountant has the responsibility of handling the day-to-day financial operations, accounting processes and records, including the preparation of financial and management reports for the organization. As the Accountant, you would address many accounting activities, including general ledger preparation, financial reporting, year-end audit preparation, and the support of budget and forecast activities. This role also supports the annual budgeting process, and leads the preparation process for tax and other compliance reporting.
Principle Responsibilities:
Guide financial decisions by establishing, monitoring and enforcing policies and procedures
Preparation of 1099's, 1096's, W-2's, W-3's, state registrations, government reporting surveys, tax forms and filings, and reports
Oversee all year-end audit schedule preparations and working with outside auditors to develop financial statements
Prepare journal entries and reconcile bank, payroll, and other balance sheet reconciliations
Recording and maintaining Fixed Assets, Including Depreciation
Post bank deposits and create related cash receipts journals
Process Health/Life/Disability/Office Liability/Contract Insurance Agreements
Ensure all contracts and grant billings are in line with the approved budgets, terms, provisions, and requirements of executed agreements and submitted to the appropriate agencies
Serves as backup to the payroll function such as reviewing bi-weekly payroll
Develop and implement continuous process improvement ideas
Assist in special projects as necessary
Additional Responsibilities:
Work closely with the President of IAM CREST to coordinate and complete Safety and Health training programs, assignments, contracts, reporting and tracking of IAM CREST activities/events, programs and grants (Federal, State, Private, etc.).
To cross-train with the IAM CREST Administrative Assistant on day-to-day duties of the Accountant and Administrative Assistant as to ensure the timely processing of payroll, accounts payables, billings, and reporting in the event of a temporary/short term absence.
Requirements/Qualifications
A Bachelor's Degree in Accounting is required
Certified Public Accountant (CPA) or actively seeking CPA Certification preferred
Possess 5+ years of experience, preferably in the non-profit, labor union sector
In-depth understanding of Generally Accepted Accounting Principles (and related Accounting Standards) and government reporting requirements for tax-exempt organizations
Proficiency with accounting and reporting software, preferably Sage
Strong working knowledge of Microsoft Excel
Excellent verbal and written communication skills; and excellent interpersonal skills
Extremely detail orientated with strong analytical skills
Ability to be flexible and work in a fast-paced environment
Compensation & Benefits:
Salary will be based on relevant experience and qualifications. IAM CREST provides medical, dental, vision, life, long/short term disability insurance to its employees and eligible family members with no monthly employee premiums. Additionally, IAM CREST provides retirement options, vacation leave, sick leave, and paid holidays.
To Apply:
Interested candidates should submit a cover letter and résumé to hrcrest@iamaw.org. Candidates will be reviewed until position is filled.
WHEN APPLYING: Be sure to indicate that you saw this information at UNIONJOBS.COM.