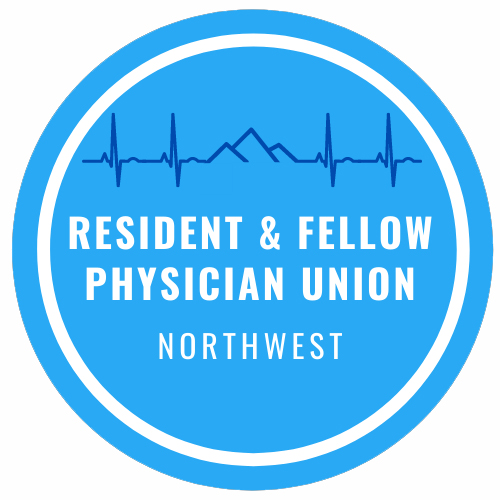 RFPU-NW
Resident & Fellow Physician Union – Northwest

Membership & Administrative Assistant
Based in Seattle, WA
The Resident & Fellow Physician Union - Northwest (RFPU-NW) is an independent labor union formed by the medical resident and fellow doctors at the University of Washington affiliated hospitals (members have graduated medical school but are completing specialty training in a residency or fellowship). RFPU-NW advocates for the residents and fellows with respect to compensation, workplace environment, and benefits. RFPU-NW has existed as an organization since the 1960s; however, has only been legally recognized as a union since 2014. We represent approximately 1,400+ doctors in training, a large percentage of all physicians in King County, serving UW Medical Center, Harborview Medical Center, VA Puget Sound Healthcare System, Seattle Children's, Seattle Cancer Care Alliance, and numerous affiliated clinics.
RFPU-NW is seeking an Membership & Administrative Assistant to join our organization in a full-time role, intended to average 40 hours per week, with flexible hours.
Position Description:
The Membership & Administrative Assistant will primarily function to support our executive board (RFPU-NW residents) as well as the Executive Director and Membership Manager, two full time labor organizers employed by RFPU-NW.
Hourly pay is $25.24/hour ($52,500/year). Additionally included: $100/Monthly Cell Phone Stipend, fully-subsidized ORCA Card, fully-subsidized Health, Dental, and Eye Insurance, Retirement with 3% employer match, and Four Weeks of Paid Time Off. We are committed to providing a living wage and a healthy work-life balance. Work hours are generally flexible, with the exception of meetings which typically take place in the evening. There is currently no physical office. Staff work from home unless attending a meeting. Meetings are most commonly held at the UW, Harborview, or in the Capitol Hill neighborhood, however currently all meetings are held over Zoom given the pandemic. While this is a "remote" position, the selected candidate will need to live or relocate to Seattle, WA.
It is vital that the Membership & Administrative Assistant believes in and supports the mission of the labor movement, as much of our work specifically requires challenging the status quo, not only within the UW organization but in local, state, and national sociopolitical contexts.
Position Responsibilities:
Membership Engagement
Manage bi-monthly membership rosters, and assist with tracking membership engagement data in Airtable
Respond to member questions and concerns through general inbox. This includes all questions regarding member benefits, potential grievances, how membership works, etc.
Assist with membership outreach and growth
Assist in planning and setting up membership engagement events
Administrative Work
Manage the schedule and calendar for the RFPU-NW board and working groups
Attend monthly board meetings and assigned working group meetings
Arrange logistics, including food for in-person meetings and note taking
Arrange financial reimbursements for members
Assist in managing member benefits including the Childcare and Grant Funds
Other administrative tasks as directed by the Executive Director
Communications
Manage social media working group, and assist with posting across platforms including Facebook, Instagram, Twitter, and LinkedIn
Assist with website posts & updates, and send email campaigns to full membership via Mailchimp
Set up texting campaigns in Hustle to notify members of important information
Reporting:
This position reports to the Executive Director and Executive Board.
Required knowledge, Skills, and Abilities:
1-3 years of experience as an administrator
Proficiency in Google suite and Slack
Ability to work both independently and as part of a team
Excellent verbal and written communication skills, and effective interpersonal skills
Willingness to operate in a flexible, less-structured environment - with sometimes irregular hours
Preferred, but not necessary:
Understanding of the medical training field
Experience with online organizing and social media
Proficiency with WordPress or website maintenance, Mailchimp, and Airtable
Prior membership or employment in a labor union
There is no degree requirement so long as the candidate has sufficient professional experience.
To Apply:
Submit a cover letter and résumé via e-mail (PDF preferred) to: executivedirector@rfpu.org, with a subject line, "Administrative Assistant - Application''. Please include two professional references along with their contact information including phone number and e-mail address. The application deadline is November 4, 2021. Interviews will take place on a rolling basis.
WHEN APPLYING: Be sure to indicate that you saw this information at UNIONJOBS.COM.