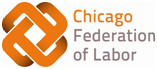 Chicago Federation of Labor, AFL-CIO

Communications & Campaigns Specialist
Based in Chicago, IL
About the Chicago Federation of Labor:
The Chicago Federation of Labor (CFL) is the nation's third largest central labor council of the AFL-CIO representing approximately 300 local unions comprised of half a million members in the Chicago area. The CFL is dedicated to the fight for social, economic, and racial justice in Chicago and beyond.
The CFL is seeking a forward-thinking individual with a background in communications, including graphic design and social media with an understanding of organized labor in the Chicago area.
Job Description:
The Communications & Campaigns Specialist will provide communications support on various projects and campaigns through November 2022. The qualified candidate will work closely with the Chief of Staff, Federation staff, affiliates, union members, unorganized workers, print shops, mail houses, and other vendors, as necessary. The Communications & Campaigns Specialist will develop, edit, and deploy content across the CFL's online and offline platforms, including social media, printed materials, CFL websites, and more. Additionally, the Communications & Campaigns Specialist will help plan, coordinate, and attend events, such as meetings, rallies, and press conferences, to further advance the mission of the CFL.
Duties:
Coordinates the design, printing, mailing and archiving of various print and online materials, including brochures, leaflets, direct mail pieces, quarterly newsletter, solicited advertisements, invitations, and other media, as assigned.
Responds to field requests for logos, photographic images, and archived files.
Write and edit organizational publications, including a quarterly newsletter and weekly emails about upcoming events; direct creative design, content, and production of publications and other materials.
Designs, edits, and proofs copy and graphics for review and approval by the Chief of Staff.
Maintaining website, including but not limited to adding, removing, and editing content.
Produce multimedia content, including videos/photographs/infographics, for Twitter, Facebook, LinkedIn, and other social media sites.
Provide communications support to ongoing CFL political and legislative campaigns at the direction of the Chief of Staff.
Support communications projects related to the CFL's annual Labor Day events.
Assist in managing the bulk email platform including drafting advocacy action alerts and campaigns.
Tracks and coordinates activities to ensure that projects are completed within stated timelines.
Occasional travel as required.
Other duties as assigned and necessary.
Education and Experience Requirements:
Bachelor's degree in communications, public relations, journalism or related field.
Minimum 3 years of related work experience in communications, public relations, graphic design, or political campaigns.
Demonstrated writing skills required; design and layout skills a plus.
Ability to maximize effectiveness of digital communications, including e-mail and websites.
Proficiency in Adobe Creative Suite, Microsoft Office and content management systems for website maintenance.
Skills Requirements:
Strong interpersonal skills and ability to work cooperatively with others.
Strong attention to detail.
Strong understanding of and experience with electronic forms of communications, including email and websites. Ability to implement basic campaign communications strategies.
Proficiency in Adobe Creative Suite and/or Microsoft Office.
Exposure to labor, political or community organizing, including communications work.
Experience on political campaigns a plus.
Experience writing speeches a plus.
Ability to work effectively in a fast-paced environment under tight deadlines.
Knowledge of media relations and communications strategy.
Ability to work weekend and evening hours when necessary.
Benefits:
In addition to a competitive salary, this position will also include an employer paid health insurance plan.
The Chicago Federation of Labor is an equal opportunity employer.
To Apply:
Interested persons should email a résumé, cover letter and two content samples of any type (written, graphic, video, etc.) to: apply@chicagolabor.org. Subject line should read: Communications & Campaigns Specialist.
WHEN APPLYING: Be sure to indicate that you saw this information at UNIONJOBS.COM.