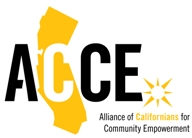 Alliance of Californians for Community Empowerment
www.acceinstitute.org

Field Organizer
Based in Oakland, CA
Organization: The Alliance of Californians for Community Empowerment (ACCE) is dedicated to raising the voices of everyday Californians, neighborhood by neighborhood, so that current and future generations have the ability to live in stronger communities and have access to expanded opportunities.
ACCE is a statewide community organization working with thousands of members across California to create transformative change by helping ordinary citizens organize and take action. Some of ACCE's priority program areas include:
Defending vital services by reforming California's broken fiscal system
Giving our children the opportunity to succeed through sound education reform
Fighting for affordable and secure housing by holding banks and corporations accountable for their bad business practices; and
Improving access to health care
Please note that ACCE does not provide community services. Rather, we work directly in neighborhoods with local residents to advocate for the change they want to see in their communities.
The Position:
The role of an ACCE Field Organizer is to build a community organization of motivated, empowered, and mobilized community leaders who act collectively, strategically, and powerfully to win on issues of importance to their families and to their neighborhoods. ACCE Field Organizers build organization by talking with residents about the changes they want to see in their local communities and beyond. Field Organizers build upon these conversations by preparing and training community leaders to research key issues, hold meetings and trainings with other community members, and develop thoughtful campaign strategies that lead to local wins and broader victories.
This is an excellent opportunity for someone who wants to be on the front lines of bringing masses of Black and Latinx people into a powerful movement for racial and economic justice.
Organizing experience is highly desirable but not necessarily required; on-the-job training will be provided. Black people, People of Color, Bilingual Spanish/English and Arabic/English speakers and current residents of the flatlands of D5, D6 & D7 are strongly encouraged to apply.
Key Duties and Responsibilities – Field Organizer I:
Full participation in all office and/or field trainings. Topics that will likely be covered include:

Membership recruitment and dues collection
How to carry out an organizing drive
Basic leadership development methods
Key elements of successful organizing campaign
Grassroots fundraising techniques including but not limited to individual donor fundraising and business sustainer programs

Spend at least 4 hours per day Identifying and recruiting new community leaders

Minimum standard = 8 dues paying members per month

Assess and develop new community leaders through follow-up via meetings, trainings, phone calls, and home visits.
Work with community leaders to plan and carry out small and large organizing meetings
Work with community leaders to plan and carry out small actions, press conferences, public events, and rallies
Complete at least one neighborhood organizing drive using the methods described above
Full participation in occasional out-of-town organizational meetings & trainings
Key Qualifications – Field Organizer I:
You are excited about and available to conduct field outreach in low-income & working class Oakland neighborhoods between 2 - 8 pm as we organize when people are most likely to be at home.
You have the ability to listen deeply, convey ideas clearly, and call people to action.
You are a hard worker and you're determined to win! You are self-motivated, relentless, and able to work independently while maintaining a high level of accountability to the organization and its members. You consistently follow through on each step of the organizing process.
You are seeking to grow as an organizer. You welcome and learn from feedback from supervisors, peers, and members.
You believe in the power of the people. You understand that the change we need will come from the bottom, not from the top. You are more interested in the people who've been locked out of this system than you are in the people who've risen to the top of it.
Preferred but not required:

You have deep roots in Oakland. You are familiar with Oakland's unique political ecosystem.
You have experience with base building and issue campaigning.
You have lived experience with homelessness, housing insecurity, severe rent-burden and/or displacement.
You are a bilingual Spanish-English or Arabic-English speaker.
Compensation: The Field Organizer position is a full-time non-exempt hourly position. The base annual pay for a Field Organizer is $23.10/hour - $50,450 annually including overtime. Pay rate increases according to years of organizing experience.
Projected Start Date: Monday, October 18th, 2021
To Apply:
Please email your résumé and a brief cover letter to: ndeane@calorganize.org.
WHEN APPLYING: Be sure to indicate that you saw this information at UNIONJOBS.COM.