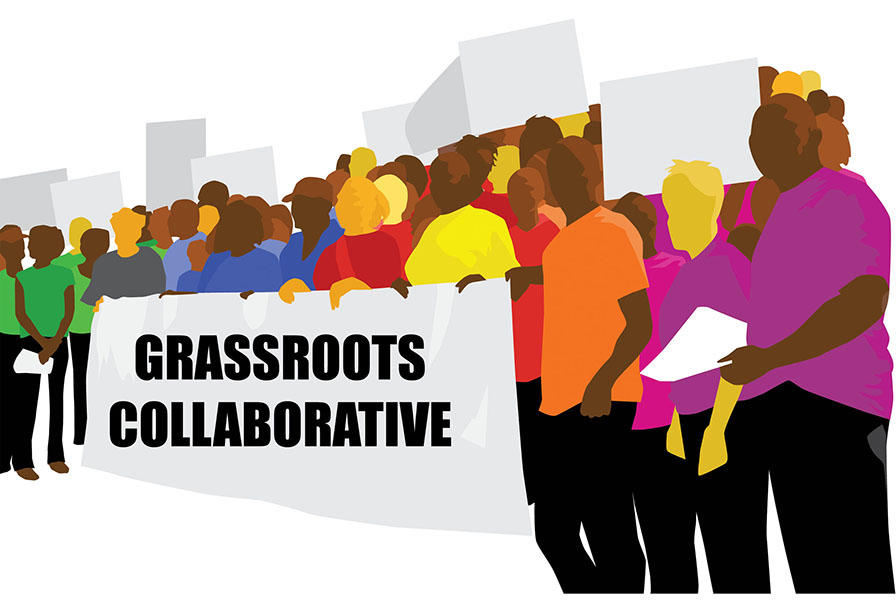 Grassroots Collaborative

Organizer
Based in Chicago, IL
(working remotely)
The Organizer will help develop campaign strategy, coordinate campaign activity among our member organizations and coalitions, create and conduct popular education sessions, and organize public actions to build community political power.
You should apply if…
You love building alignment amongst a group of multi-racial labor and community stakeholders through fostering spaces of trust, connection and radical hope
You want to fight back against white supremacy, austerity and environmental racism
You enjoy being part of a collaborative team
Responsibilities:
Coalition Building and Facilitation – Maintain communication with coalition partners and engage them in strategic campaigns including digital, legislative and street actions.
Strategy Development – work with the campaign director to develop long-term campaign strategy.
Political Education & Leadership Development – Design and conduct workshops and presentations that educate our member organizations and coalition partners about the origins of our fiscal, racial and climate crises and prepare members to lead elements of our campaigns.
Communications – Work with the Communications Director to create and amplify a public narrative that reimagines Chicago as a place where Black and Brown families thrive.
Direct Action – Develop and execute a variety of member-led actions that move our campaign objectives forward.
Legislative – Implement grassroots lobbying strategies to educate legislators on campaign demands and policy solutions.
Other roles – Participate in Grassroots Collaborative staff team and other organization-wide meetings and activities. Additional roles and responsibilities as assigned.
Requirements:
Experience organizing labor or community with a track record of coordinating and complex multi-issue coalitions
Ability to facilitate space to build trusted relationships amongst organizations with clear and empathetic communication.
Strong organizational and leadership skills, with a demonstrated ability to troubleshoot issues as they arise, make contingency plans, and adapt plans as needed
Nice to Have:
Experience with corporate campaigns, environmental justice, abolition, interest in Wall Street accountability
Spanish fluency
Proficient in Excel, PowerPoint, Word, Google Suite, Slack, Asana
Work Environment:
Position is based in Chicago with some travel in the metro area, central and downstate Illinois.
COVID-19: Grassroots Collaborative has made shifts to address the continuing difficulty of the pandemic on our emotional and physical health.
We are working remotely until it is safe to return to the office.
For the duration of the pandemic, we are implementing a 4 day work week, with Full Time Employment defined as 32+ hours, with Fridays off. (There will be exceptions, where more working hours are required, including on Fridays or over the weekend.)
Compensation:
This position can be filled at an organizer or senior organizer level. Candidates with up to 3 years of full-time organizing experience will be considered for the Organizer role, with a salary range between $50,000 – $65,000. Candidates with more than 3 years of full-time organizing experience will be considered for the Senior Organizer role, with a salary range of $55,000 – $70,000.
Benefits include:
Medical, vision, and dental insurance
Professional development and work tools
14 days of paid vacation
15 holidays
11 sick days
Most Fridays off
About us:
Grassroots Collaborative (501c3) is a woman of color led, BIPOC-centered coalition that builds power with working families through strategic community-labor organizing, grassroots leadership development, civic engagement, and research in Chicago and Peoria, IL. We aim to create bold change through building united fronts to win progressive policies and transformative systems-change centered on low-to-moderate income residents and communities of color. We utilize popular education to build consciousness, and build a coalition that unites residents to create transformative change for a more just society. Our affiliated 501c4, Grassroots Illinois Action, works to build community political power through issue advocacy and electoral strategies. We have a strong record of leading cutting-edge campaigns that shift the narrative of white supremacy, austerity and corporate power. Currently our campaigns focus on taxing the rich, defunding the police, and winning a Green New Deal.
Grassroots Collaborative is an equal-opportunity employer. Black, Indigenous and People of Color, LGBTQIA+ strongly encouraged to apply.
To Apply:
Please send résumé and cover letter prompt (see below) to: hiring@thegrassrootscollaborative.org, with "ORGANIZER" in the subject line.
Cover letter prompts (please choose one of the following and respond in one page or less):
Please describe your experience working with or leading a multi-sectoral coalition with an example of how you facilitate a space to build trusted relationships amongst organizations with clear and empathetic communication.
Or
Highlighting your leadership and problem-solving skills, please share a story of a time you had to troubleshoot an organizing campaign, how did you adapt and shift plans?
SUPERVISED BY: Campaign Director
SUPERVISES: Some supervisory responsibility over interns
SALARY/HOURLY, EXEMPT OR NONEXEMPT: Salaried, Exempt, Full-time position
Action Now Institute. American Friends Service Committee, Great Lakes Region .
Brighton Park Neighborhood Council . Chicago Coalition for the Homeless . Chicago Teachers Union .
Jane Addams Senior Caucus . Jewish Council On Urban Affairs . Logan Square Neighborhood Association
ONE Northside . Service Employees International Union Healthcare Illinois Indiana
WHEN APPLYING: Be sure to indicate that you saw this information at UNIONJOBS.COM.