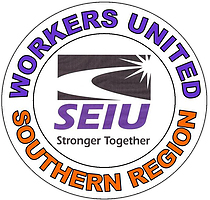 SEIU
Workers United Southern Region

Georgia Political Campaign Coordinator
Based in Metro Atlanta and Statewide
The SEIU - Workers United Southern Region is a growing, progressive union representing over 14,000 workers at industrial laundries, distribution centers, college food service, higher education, and other jobs in the South.
Entering the 2021-2022 electoral cycle, SEIU Workers United Southern Region has an exciting political field program that is in search of a Georgia Political Campaign Coordinator. The Political Campaign Coordinator will be responsible for political outreach to local and federal elected officials, community outreach to support the multiple issue priorities, and a member political field program that will engage members, not-yet-members, and allies in service to the political priorities of the union. This would be a temporary position through 12/31/2022.
The Political Campaign Coordinator will collaborate with Workers United Southern Region leadership and SEIU political team and organizers to develop and execute innovative, high-impact electoral programs and member political activism.
Job responsibilities include:
Work with key partners on integrating members into volunteer field programs.
Develop and implement tactics to support our political priorities and legislative goals.
Help plan and manage member political organizers development goals and program
Manage Voter file and prepare phone banking and canvassing turf lists for members
Running day-to-day political program for the union in Georgia
Assist in creating member political organizer post-campaign continuation plan
Work with internal organizing to share/generate volunteers and activists.
Closely track engagement and performance to understand, assess, and make recommendations on member engagement and overall political strategy.
Qualifications:
Political campaign experience either through unions, community groups, or political organizations and/or campaigns.
Ability to motivate and inspire working people to action.
Basic knowledge of election campaign law and union organizing principles.
Comfortable using computer to manage the Voter files, update membership databases, create leaflets, social media, and online communication tools to engage members.
Valid driver's license and car.
Salary is competitive and commensurate with experience. Excellent benefits includes medical, dental, vision insurance, and car allowance.
Workers United Southern Region, SEIU is an equal opportunity employer.
To Apply
Please send a cover letter, résumé, and references with "Georgia Political Campaign Coordinator" in the subject line to sregionunite@bellsouth.net.
WHEN APPLYING: Be sure to indicate that you saw this information at UNIONJOBS.COM.