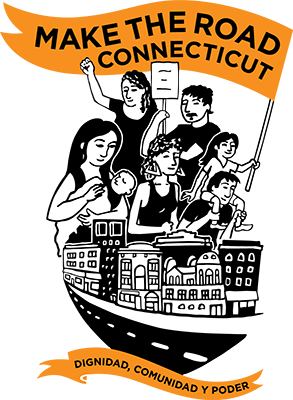 Make the Road Connecticut

Community Organizer
Based in Bridgeport, CT
About Make the Road CT:
Make the Road Connecticut is a statewide organization that builds power of immigrants and low-income Latinx to achieve dignity and justice. We do this by community organizing, legal and survival services, transformative education, and policy innovation. We tackle the issues that directly impact our communities of color: immigration reform, economic justice, education equity, womxn's justice and youth justice.
About the Position:
We seek an energetic Community Organizer to join our team. The Community Organizer will work closely with the lead organizer and MRCT's leaders to grow our membership base, develop new leadership and execute our campaigns. The community organizer will work through our committee model. The committee is the engine that drives our work, and the space where campaign and action planning, political education, and orientation to our organization all take place. Committee meetings are facilitated by members in coordination with staff. We are seeking a seasoned organizer with strong references who is interested in growing into a senior leadership position. The organizer will report to the Lead Organizer.
Primary Responsibilities but not limited to:
Maintain constant communication with leaders to support outreach, education and other work they are doing.
Facilitate committee meetings and work with members to facilitate meetings.
Develop political education materials in conjunction with our campaigns.
Facilitate political education workshops as part of committee meetings.
Develop testimonies with members for press, and work with directly impacted people to give testimonies that advance our campaigns.
Work with Madres en Accion Comite (Mother's in Action Committee) to educate parents and guardians about their right in the Bridgeport Public School District.
Continue to organize and mobilize for Madres en Accion's active campaign to improve student outcomes in the city's K-12 public schools.
Meet weekly and monthly goals to grow the base and membership based on experience level.
Will be part of the organizing team and will work to meet goals for; team events, actions or various activities that will move the organizational vision forward and make a positive impact on the organizational health.
Qualifications:
Eligible to work in the US
Bachelor's degree or at minimum 4 years of organizing experience, experience organizing in coalition with grassroots, political or labor organizations;
A demonstrated commitment to social justice, strong analysis of systemic oppression based on race, class, gender, sexual orientation and gender identity, and an understanding of challenges facing immigrant communities, communities of color, and low-and moderate-income families;
Drivers license and vehicle;
Excellent organizational skills and good attention to detail;
A high level of self-motivation and a proven ability to work independently as well as collaboratively;
Dedication and ability to work flexible hours;
Job Competencies
Be proficient in MS Office Suite, particularly with Word, Excel and PowerPoint.
Possess excellent written and interpersonal communication skills.
Be highly reflective and able to offer and receive feedback on a regular basis.
Demonstrate a keen eye for detail and the ability to multitask in a fast-paced environment.
Demonstrate a high degree of discretion dealing with confidential information.
The ability to communicate both written and verbally in Spanish and English is required.
Salary:
Salary commensurate with experience. Make the Road States Inc. has a comprehensive benefit package including health insurance, and 401k.
To Apply:
Please apply with a résumé and cover letter at the Make the Road Connecticut Career Center at https://workforcenow.adp.com/mascsr/default/mdf/recruitment/recruitment.html?cid=a688d1c3-aa45-4a4d-bb51-a8e9a1803e70&ccId=1586553140135142_6503&jobId=405702&source=CC2&lang=en_US
POSITION OPEN UNTIL FILLED.
Make the Road States Inc. is an equal opportunity and affirmative action employers and seek to ensure equal opportunity and equal treatment of all employees and applicants for employment without unlawful discrimination as to race, creed, religion, color, citizenship, national origin, sex, age, disability, marital status, gender identity, genetic information and sexual orientation, in all employment decisions including but not limited to hiring, compensation, benefits, training, termination, and all other terms and conditions of employment.
WHEN APPLYING: Be sure to indicate that you saw this information at UNIONJOBS.COM.