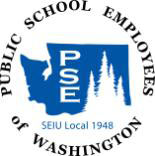 Public School Employees of Washington
SEIU 1948

Field Representative
Based in Kennewick, WA
Overview of Responsibilities:
This is a highly responsible field staff position that negotiates, administers and enforces collective bargaining agreements for, and on behalf of, PSE members with school districts and institutions of higher learning. Represents members on job-related issues including grievances, disciplinary matters and other situations involving wages, hours, benefits and working condition disputes.
Description of Duties:
Works directly with local chapter leadership to deliver the highest quality service to all represented employees and promote active participation of members in PSE activities.
Consistently exercises independent judgment and discretion in dealing with a variety of issues affecting members.
Assists chapters in formulating goals, objectives and operating procedures within the parameters of state and local bylaws.
Constantly searches for new and better ways of providing service to PSE members and opportunities for organizational growth.
Through regular communications, is attentive to potential problems and works to resolve them as quickly as possible.
Active in recruiting and training new leadership.
May provide instruction in areas of personal expertise in PSE's education and training programs.
Functions in a spirit of friendly cooperation with other staff members in all facets of field and support operations.
Promotes and works toward the accomplishment of PSE's mission within the parameters of the adopted values and policies and procedures.
Performs other duties as assigned and directed.
Qualifications and Skills:
Experience in labor relations field, and/or possession of a bachelor's degree/BA in labor relations, business administration, public administration, or education preferred.
Demonstrated knowledge of labor organizations, labor law and contemporary labor relations trends, issues and practices.
Knowledge of the public education system, education issues, and the role classified K-12 and higher education employees serve in the education system.
Ability to effectively negotiate collective bargaining agreements.
Excellent written and oral communication skills.
Ability to listen effectively and be responsive.
The ability to work well with people in a variety of settings and circumstances.
The ability to produce high quality work through planned, organized and systematic work habits.
The ability to work well under pressure, changing and unexpected conditions, and meet deadlines.
While performing the duties of this job, the employee will work in a home office setting.
Regularly required to use standard office equipment. Attend meetings, siting and standing intermittently. Must be able to lift 10 pounds or less.
This is a salary position. Hours will vary daily according to member needs. Frequent late afternoon/evening meetings will be required. Periodic weekend hours will be required.
Travel within the state for meetings and conferences will be required.
To Apply: Applicants can submit résumés to: applications@pseofwa.org.
Salary: $66,496.83 – $100,250.00
Equal Opportunity Employer
WHEN APPLYING: Be sure to indicate that you saw this information at UNIONJOBS.COM.