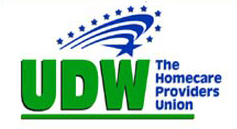 United Domestic Workers of America
(AFSCME Local 3930)



Union Representative
Based in Chico, CA
UDWA Overview:
UDWA Home Care Providers Union/AFSCME Local 3930 is a statewide labor union that represents more than 140,000 care providers in 45 counties in California. Founded in 1979, UDWA is a diverse, progressive labor organization that seeks dynamic, committed individuals who will support our members and those for whom they care locally, statewide and at the national level.
Job Summary:
Under the direction of the Director & Assistant Director of Internal Operations, as well as the Regional Manager and the Lead Union Representative, the Union Representative will grow the member driven union by building local and state power for workers.
Duties and Responsibilities:
Assist in developing and executing campaigns, including but not limited to, political elections, contract negotiations and statewide legislative agenda.
Mobilize workers around worksite issues, politics, public policy, and other issues affecting the lives of workers.
Solicit memberships through orientations, AIMS, membership meetings, new member house visits and special events.
Attend IHSS Orientations and execute regional IHSS growth plans.
Develop social justice, civic and community power through local political, human rights and health & welfare councils.
Encourage and lead participation in political activities that hold elected officials accountable to working families.
Build external relationships with the community, county officials and workers to drive campaigns, develop the union and increase public awareness.
Identify, mentor and develop member leaders through the leadership academy, councils and bargaining institute.
Develop and maintain relationships with members, identifying their abilities and potential contributions to the union.
Carefully manage and maintain membership data to track and develop member activists, leaders and member participation.
Work collaboratively to identify effective communication systems to reach members and providers.
Assist in creating print and digital communications including leaflets, flyers, photos and social media posts.
Provide vital member provider assistance.
Maintain work files and comply with administrative reporting.
Perform other duties as assigned.
Knowledge, Skills and Abilities:
Extensive union or comparable experience.
Knowledge of labor rights, contract language, and lobbying skills.
Strong strategic and critical thinking skills.
Effective oral and written communication skills.
Demonstrated ability to effectively deliver presentations to small and large groups.
Proficient in Microsoft Outlook, VAN, Organizer and UDW database
Work effectively in team settings, as well as independently.
Ability to successfully manage and direct teams including member volunteers.
Effectively prioritize and multi-task assignments and responsibilities.
Willingness to work irregular hours, including nights and weekends and travel as needed.
Bilingual skills strongly preferred, particularly in the following languages: Spanish, Vietnamese, Tagalog, Russian and Assyrian.
Must possess a valid California driver's license, auto insurance that covers business driving, and an automobile for business use.
Must comply with UDWA's Driver Policy.
Physical Demands:
The physical demands described here are representative of those that must be met by an employee to successfully perform the essential functions of this job.
While performing the duties of this job, the employee is regularly required to stand, climb stairs and walk for extended periods of time. The employee must have visual perception, the ability to hear and speak. The employee is frequently required to utilize arms, hands and fingers. The employee must be able to withstand extreme heat, moderate noise and ability to work outdoors. Employee should be able to lift up to 30 pounds.
Employee must be able to perform duties and responsibilities in an office environment, private homes, community spaces and public outdoor spaces.
UDWA is an equal opportunity employer, and, as such, does not discriminate an employee or applicant on the basis of race, creed, color, age, sex, national origin, marital status, sexual orientation, gender identity, religious affiliation, disability, or any other classification protected from discrimination under applicable law.
Salary Range: $50,000 – $67,000
To Apply for This Position:
Mail, email or fax a detailed résumé, cover letter, a one-page writing sample and the name, job title, address, and phone number of three professional references to:
Email: jobs@udwa.org
In subject: Title of Position (applying for)
Mail: UDWA/AFSCME Local 3930
c/o Human Resources
4855 Seminole Drive
San Diego, CA 92115
Fax: (619) 640-9903
WHEN APPLYING: Be sure to indicate that you saw this information at UNIONJOBS.COM.