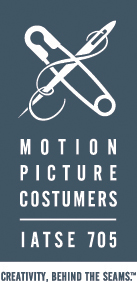 IATSE Local 705
The Motion Picture Costumers Union

Union Representative/Organizer
Based in Los Angeles, CA
Position Summary:
The Union Representative/Organizer is someone capable of forming personal and professional connections with current and prospective members, to better connect them to each other and to their Union. The UR/O will perform field visits to current members working in our 15 independent signatory facilities, dozens of studio facilities and a variety of production locations, as needed. They will develop and lead campaigns to increase union density by tracking and talking with workers at non-union facilities and production locations. They may also file and resolve grievances, or meet with employer representatives to resolve issues. They will help develop and implement a nascent steward program.
Full Job Description
Union Representative – Organizer
Under the direction of the Business Representative, as well as the Executive Board, the Union Representative will motivate and engage the existing, retired, and prospective union members by overseeing internal and external organizing campaigns. BIPOC candidates encouraged to apply.
Motion Picture Costumers:
Motion Picture Costumers IATSE Local 705 is an entertainment industry labor union that represents more than 2,500 workers and retirees in motion picture/television costume handling and manufacture in the Los Angeles region. Founded in 1937, Local 705 is a diverse, progressive labor organization that seeks an assertive and driven organizer who will help increase union density, motivate and educate members, and promote unionism throughout Los Angeles and the entertainment industry. We are a Local of the International Alliance of Theatrical Stage Employees, AFL-CIO, with a union staff contract covered by Teamsters Local 911.
Duties and Responsibilities:
Design and implement strategic organizing campaigns to win Union recognition for unorganized workplaces, build organizing committees, develop community coalitions to support organizing campaigns, identify issues, identify and develop organic leaders, and prepare workers for NLRB elections for facilities. Participate in organizing motion picture production workers as called on by the IATSE.
Mobilize and motivate workers around worksite issues, union solidarity, politics, public policy, and other issues affecting the lives of workers and to promote economic justice.
Help develop and lead a steward program to empower workers through contract negotiation, contract enforcement, lobbying, and other issues and disputes affecting workers. Assign tasks to stewards, and direct stewards with respect to developing and implementing Union policies on all workplace issues.
Encourage and lead participation in political activities that hold public elected officials accountable to working families. Build external relationships with the community, county officials and workers to drive campaigns, develop the union and increase public awareness.
Identify, mentor, and develop member leaders through the steward program, committee involvement, and meeting attendance/participation.
Develop and maintain relationships with members, identifying their abilities and potential contributions to their union, as well as fostering a service-based atmosphere.
Work collaboratively to identify effective communication systems to reach members. Advise in development of communications strategies, including leaflets, flyers, photos and social media posts.
Visit facilities and production studios and locations to engage with members, communicate union goals, and keep union leadership connected to the needs and priorities of rank and file workers.
Organize rallies and demonstrations; provide strike support including organizing workers and members involvement, support actions, pressure campaigns on employers and building community support.
Maintain work files and comply with administrative reporting.
Perform other duties as assigned.
Knowledge, Skills and Abilities:
Extensive union or comparable experience.
Knowledge of workers, the workplace, the labor movement, and political issues.
Knowledge of or ability to learn relevant labor and employment law protections, such as the NLRA, FLSA, Cal/OSHA, FMLA, Title VII/FEHA, Title 22, ADA, Workers' Compensation, etc.
Excellent interpersonal skills as demonstrated by the ability to establish and cultivate respectful relationships with people from diverse backgrounds.
Strong research, strategic thinking and critical thinking skills.
Knowledge of or ability to learn about costume production, film/TV/motion picture/commercial production; familiarity with Hollywood organizations such as IATSE, Contract Services, AMPTP, etc. (preferred).
Demonstrated dedication to workers' rights and social justice.
Effective oral and written communication skills.
Demonstrated ability to effectively deliver presentations to small and large groups.
Proficient in Microsoft Outlook, Teams and Office.
Work effectively in team settings, as well as independently.
Ability to successfully manage and direct teams including member volunteers.
Effectively prioritize and multi-task assignments and responsibilities.
Willingness to work long and varying hours including weekends and nights, when needed.
Qualifications
Education: Bachelor's Degree or higher in relevant field (Preferred)
Language: English – Bilingual skills strongly preferred, particularly in the following languages: Spanish, Mandarin, Korean, Russian, Armenian, Arabic.
Other: Must possess valid CA Driver's License and own vehicle suitable for extensive daily travel throughout Los Angeles County.
Employee must be able to perform duties and responsibilities in an office environment, production studio, community spaces and public outdoor spaces.
Motion Picture Costumers is an equal opportunity employer, and as such, does not discriminate against an employee or applicant on the basis of race, creed, color, age, sex, national origin, marital or parental status, sexual orientation, gender identity or expression, religious affiliation, disability, or any other classification protected from discrimination under applicable law.
Job Type: Full-time.
Salary: Negotiable, starting at $113,000 annually, commensurate with experience.
To Apply:
Please send cover letter, résumé and three references (email/phone) to Adam West, Business Representative, at: Awest@mpc705.org. No calls please.
Position open until filled.
WHEN APPLYING: Be sure to indicate that you saw this information at UNIONJOBS.COM.