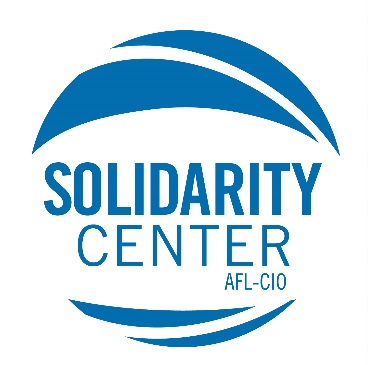 Solidarity Center

Project Director, Central America
Based in Guatemala City, Guatemala


(Due to the global health crisis, deployment to Guatemala will be contingent upon the lifting of travel restrictions
and confirmation of safe conditions on the ground. Until then, all work will be done remotely.)
This position is contingent upon donor approval
Location: Guatemala City
Deadline for Application: When filled
Solidarity Center seeks a Project Director for Central America to implement a US Government funded initiative to help workers realize and exercise their rights. The Project Director will be responsible for strategic planning, program coordination, reporting, and executing partnership agreements and subgrants related to this project. Extensive travel within Central America will be required once conditions allow. This position will report to the Country Program Director in Guatemala City, who oversees the Central America portfolio, and will supervise a project monitoring and evaluation (M&E) officer.
The Project Director will collaborate with stakeholders in, El Salvador, Guatemala, Honduras, and Washington to keep them updated on Solidarity Center's efforts related to this initiative. This individual will work with the project's M&E Officer to track progress so as to ensure that Solidarity Center meets anticipated goals while ensuring compliance with budget targets, U.S. Department of Labor grant regulations, Solidarity Center policies, and pertinent host country laws.
General Qualifications:
This position requires strong project management skills and the ability to monitor budgets and outcomes and write results-oriented reports. Knowledge of and/or experience engaging with worker rights issues in supply chains is required, including worker rights violations particular to women, such as Gender Based Violence (GBV). This position demands sound judgment, a head for analysis, and a keen political sense. Experience with worker organizing and/or worker issue advocacy in Central America is highly desirable.
Specific Requirements:
Bachelor's degree, Master's degree, or law or Juris Doctor (J.D.) degree reflecting expertise in areas relevant to this project, such as labor law, public policy, sociology, and project management.
Minimum of five years of experience in project management, supervision, administration, and implementation of grant or contract requirements, including meeting deadlines, achieving targets, and overseeing the preparation and submission of required reports to the project funder.
Previous trade union experience; demonstrated knowledge of Occupational Safety and Health (OSH) programs preferred.
Experience establishing and maintaining systems for project operations.
Experience building and maintaining productive relationships with government, employers, and workers in vulnerable communities.
Ability to maintain working relationships with all project stakeholders, including public, private, and civil society partners.
Experience working with marginalized communities such as agricultural workers in Guatemala and Honduras or maquila workers in El Salvador.
Extensive experience working in rural and agricultural areas to ensure project work effectively reaches and includes intended beneficiaries.
Proven success serving in a leadership role for a project addressing labor issues, specifically the free exercise of worker rights.
Clear and thorough understanding of USDOL policies, procedures, and requirements.
Knowledge of international relations and trade union and socio-economic and political developments in the U.S. and abroad.
Computer literacy for word processing and simple spreadsheets.
Excellent writing and communications skills in the English language.
Oral and written fluency in both English and Spanish.
Apply HERE!
ALL APPLICATIONS MUST BE SUBMITTED IN ENGLISH
The Solidarity Center cultivates the values of diversity, equality, and inclusion among its staff and partners. It does not discriminate on the basis of race, color, religion, sex, sexual orientation, gender identity, national or ethnic origin, age, marital status, disability, veteran status, or any other status protected under applicable law. Candidates from traditionally underrepresented groups are strongly encouraged to apply
WHEN APPLYING: Be sure to indicate that you saw this information at UNIONJOBS.COM.