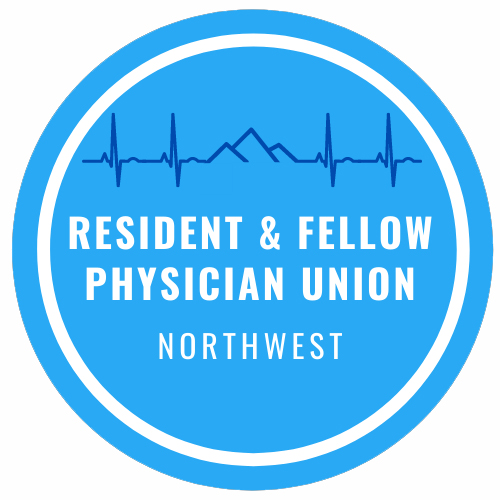 RFPU-NW
Resident & Fellow Physician Union – Northwest

Membership Manager
Based in Seattle, WA
The Resident & Fellow Physician Union - Northwest (RFPU-NW) is an independent labor union formed by the medical Resident and Fellow doctors at the University of Washington affiliated hospitals (members have graduated medical school but are completing specialty training in a residency or fellowship). RFPU-NW advocates for the Residents and fellows with respect to compensation, workplace environment, and benefits. RFPU-NW has existed as an organization since the 1960s; however, has only been legally recognized as a union since 2014. We represent approximately 1,400+ doctors in training, approximately 20% of all physicians in King County, serving UW Medical Center, Harborview Medical Center, VA Puget Sound Healthcare System, Seattle Children's, and numerous affiliated clinics.
RFPU-NW is seeking an Membership Manager to join two staff members in our labor union in a full-time role, averaging 40 hours per week, with flexible hours.
Please Note: The candidate will need to have weekday evening availability to accommodate when our members are able to meet. During busy months this can be up to 2-3 evening meetings/week.
Position Description:
The Membership Manager will focus on building membership engagement, grievances, and member benefits. This includes managing our Department Representative program, Childcare Fund, Grant Program, and Social Events. In addition, this individual will work closely with our Grievance Team to manage contract enforcement, and will oversee 2-3 working groups led by Residents and Fellows.
Base Salary is $60,000+, depending on experience. Additionally included: $100/month Cell Phone/Internet Stipend, fully-subsidized ORCA Transit Card, fully-subsidized Health Insurance, 3% Retirement Matching, and Four Weeks of Paid Vacation. Work hours are generally flexible, with the exception of meetings. There is currently no physical office. While this is a "remote" position, the selected candidate will need to live in or relocate to the Seattle area, as they will be expected to attend in-person meetings when it is safe again.
Position Responsibilities:
Assist with membership growth and mobilization;
Identify and recruit new member leaders to engage as Dept Reps and join working groups;
Collaborate on general communication with RFPU-NW Members including the member newsletter, tabling, and organizing efforts;
Manage general website maintenance including updating with upcoming events - Negotiations, Grievances, Publications, Benefit Programs, etc.;
Represent members in disciplinary meetings as their union representative;
Work with the Grievance team to conduct grievance investigations and processing grievances through arbitration;
Attend monthly board meetings and working group meetings.
Reporting:
This position reports to the Executive Director and Executive Board.
Required knowledge, Skills, and Abilities:
1-3 years of experience in campaign or union organizing;
Commitment to advancing racial equity;
Knowledge of the labor movement, including principles of union organizing and collective bargaining;
Experience importing and exporting data to and from different data systems;
Using data to identify and enhance leadership development and engagement opportunities;
Experience with online organizing and social media;
Proficiency with Google Suite;
Excellent verbal and written communication skills, and effective interpersonal skills;
Ability to use initiative to execute new projects independently;
Willingness to operate in a flexible, non-traditional office environment - with sometimes irregular hours.
Preferred, but not necessary:
Understanding of the medical training field;
Proficiency with WordPress, Airtable, Slack.
There is no degree requirement so long as the candidate has sufficient professional experience.
To Apply:
Submit a cover letter and résumé via email (PDF preferred) to: executivedirector@rfpu.org, with subject line, "Membership Manager - Application''.
Please include two professional references along with their contact information including phone number and email address. The application deadline is 5:00 pm on October 15, 2021. Interviews will take place on a rolling basis.
Women, people of color, individuals with disabilities, and members of the LGBTQIA+ community are strongly encouraged to apply.
WHEN APPLYING: Be sure to indicate that you saw this information at UNIONJOBS.COM.