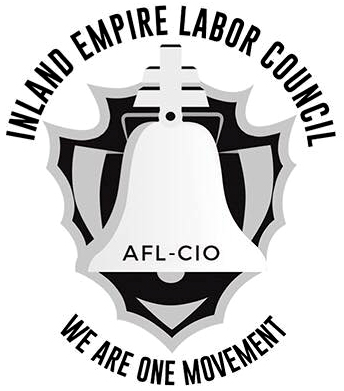 Inland Empire Labor Council, AFL-CIO



Administrative Staff Member
Based in Riverside, CA
The Inland Empire Labor Council is seeking an Administrative Staff Member to support the work of its various projects across the Inland Empire.
The IELC represents over 300,000 working families from 80 local unions from every sector of the labor movement across Riverside and San Bernardino Counties. Its major function is help workers negotiate better wages, working conditions, and to uplift their voices through collective action. As its non-profit wing, the IE Labor Institute, 501(c)(3), primarily focuses on developing High Road Training Partnerships between unions and employers to upskill and retrain workers on the emerging green jobs economy.
Most of the duties of this position will be spent working with the Project Coordinator of the Just San Bernardino Collaborative.
The Just San Bernardino Collaborative (justsb.org), working with The Inland Empire Community Foundation as its fiscal sponsor (IECF, formerly The Community Foundation serving Riverside and San Bernardino Counties), is seeking a project coordinator to manage all aspects of an 18-month project grant awarded by the James Irvine Foundation to creatively engage 10,000 residents in the City of San Bernardino in the development of a coordinated People's Plan for an Inclusive Economy (PPIE). This plan and process will foster the inclusion of grassroots communities with the region's economic development for a more inclusive economic mobility and growth strategy and lay the foundation for a multiyear investment in the City of San Bernardino.
Responsibilities:
Note Taking
Scheduling meetings
Attend all meetings virtually and/or in-person
Maintain contact with all Just SB partner orgs
Responsible for oversight of grants /mini-grants
Maintain open lines of communication with fiscal sponsors including IECF
General support for Just San Bernardino project coordinator
Create, maintain, and monitor social media accounts for Just SB/IELI/IELC
General support/collaboration across Just SB projects
Minimum Qualifications:
Experience:
Min 1 year of admin support or related experience
Preferred experience working with CBOs
Zoom and Google Meetings
Excellent oral and written communication skills
This is a full-time salaried position. The salary for this position is $55,000 to $60,000, depending on experience. Our generous benefits package includes paid vacation, sick leave, holidays, medical, dental, and vision insurance. This is an 18-month full-time position with the potential of renewal contingent on funding availability.
The Administrative Staff Member will report to the Just SB Program Coordinator.
IELC is an equal opportunity organization. Women, people of color and LGBTQ+ are encouraged to apply.
To Apply:
Please send cover letter, CV/Résumé, and contact information for 2 references to Mike Chavez at: mchavez@ielabor.org.
WHEN APPLYING: Be sure to indicate that you saw this information at UNIONJOBS.COM.