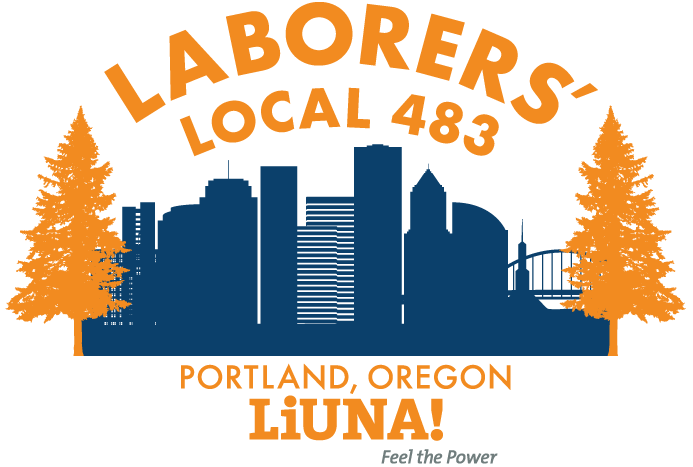 Laborers' Local 483

Experienced Field Representative
Based in Portland, OR
The Laborers' International Union of North America (LIUNA), Local 483, is looking for a full-time Field Representative. Laborers' Local 483 is a dynamic, member-driven labor union that represents approximately 1500 public employees, with bargaining units in the City of Portland and beyond.
Qualifications and experience
Five years public and/or private sector union experience (or other relevant experience) preferred: organizing, contract enforcement and negotiations, grievance administration, member representation in disciplinary proceedings, working knowledge of collective bargaining laws and practices, member recruitment, steward recruitment and training, community organizing, and political advocacy. Broad understanding of the critical issues and problems facing labor unions and workers in Oregon and the nation.
Experience and knowledge with organizing and issue campaigns.
Ability to travel in urban and rural geographic areas.
Current Oregon driver's license.
Duties and responsibilities
Organizing and maintaining bargaining units as assigned
Filing grievances and preparing materials for arbitration
Negotiating collective bargaining contracts using traditional and non-traditional formats and models
Writing contract language
Designing and running a variety of organizing campaigns including issue organizing and contract action teams.
Designing and running internal membership drives and campaigns
Conducting training sessions for stewards/members
Designing basic flyers and writing basic campaign literature
Designing and conducting contract surveys
Assisting in get-out-the vote and related political activities
Troubleshooting, brainstorming and assisting the local in day-to-day activities
Knowledge, skills, and abilities
Ability to represent employees in grievance and disciplinary hearings
Ability to secure relevant information and solve problems
Ability to accurately and coherently compose correspondence, grievances, basic campaign literature, flyers, and bargaining language
Ability to strategize, organize, plan activities, and set priorities
Ability to research work-related questions from appropriate sources
Ability to work with others
Knowledge of public and private sector labor law
Knowledge of collective bargaining laws
Ability to work rapidly and accurately during rush periods
Ability to direct, develop and coordinate activities
Ability to work independently with a minimum of supervision
Ability to strategize and plan a collective bargaining campaign
Ability to make public presentations to audiences in a range of venues
Ability to design and present training sessions
Ability to set up and run phone and text banks
Laborers' Local 483 represents workers in 24/7 operations and a variety of shifts. Candidates must be available for evening, early morning, and weekend work. Typical workweeks extend beyond 40 hours.
Laborers' Local 483 offers a full salary and benefits package, including a defined benefit pension, mileage reimbursement, full medical and dental coverage for employees and their dependents, training and educational reimbursement, and opportunities for advancement.
To Apply:
Interested parties should email a résumé and cover letter to: Farrell Richartz, Business Manager, farrell@liuna483.org. Applicants must be willing to submit to a background check. Valid driver's license and access to an insured vehicle for work use required.
WHEN APPLYING: Be sure to indicate that you saw this information at UNIONJOBS.COM.