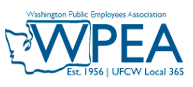 Washington Public Employees Association
UFCW Local 365



Staff Representative



Member Representation Specialist
Based in Olympia, WA
The Washington Public Employees Association is a public-sector labor union with approximately 4300 bargaining unit positions statewide. We represent classified employees in state government agencies, community colleges, and public library systems.
Staff Representatives are assigned a territory that include bargaining units represented by WPEA across the state. This territory is subject to change. This position has a duty station in Olympia, Washington. The right applicant may be able to work remotely or at an alternative location approved by the WPEA President.
WPEA Staff Representatives are primarily responsible for member representation, member communication, and contract enforcement. Frequent travel is required, as well as long and irregular hours. Applicants should have experience as a union representative or human resources professional, preferably in the public sector. Applicants should possess strong computer skills and be comfortable using the Microsoft Office Suite applications such as Word, Excel and Outlook.
Typical activities include:
Advising individual members on workplace issues
Acting as union representative in disciplinary meetings
Acting as union spokesperson in labor-management meetings and mid-term negotiations
Conducting grievance investigations and processing grievances through arbitration
Facilitating member meetings of up to fifty members
Organizing member action around contract campaigns and special projects
Coordinating member participation in legislative and political affairs
Identifying, recruiting and training shop stewards and member leaders
Educating and motivating members toward collective action
The successful candidate will be able to:
Communicate effectively with individuals and groups
Write effectively in a variety of forms, including emails, letters, grievances, settlement agreements, contract proposals, flyers, petitions and newsletter stories
Interpret and administer complex legal and contract language
Exercise sound judgment in resolving difficult situations
Practice diplomacy in managing interpersonal conflicts
Handle multiple cases with frequent deadlines
Work well under pressure
Please include a cover letter, résumé and references when applying for this position. Your cover letter should include a brief explanation of how your skills and experience make you a strong candidate for the position. The salary range is $56,197 – $$92,085 and placement depends on experience. Excellent benefits include health insurance, retirement account, and paid time off (holidays, exchange/flex time, vacation and sick leave). This position will remain open until filled.
To Apply:
Please email application materials to:
Amanda Hacker
Contract Administration Director
Amanda@WPEA.org
WHEN APPLYING: Be sure to indicate that you saw this information at UNIONJOBS.COM.