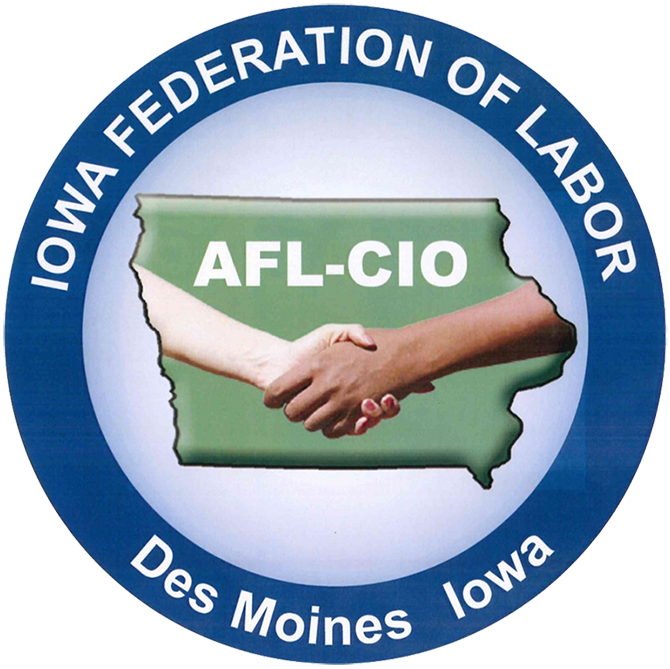 Iowa Federation of Labor, AFL-CIO

Political Director
Based in Des Moines, IA
(with travel throughout the state)
The Iowa Federation of Labor, AFL-CIO is the state federation of labor representing roughly 50,000 members of hundreds of local unions throughout Iowa. The mission of the Iowa Federation of Labor, AFL-CIO is to improve the lives of working families—to bring economic justice to the workplace and social justice to our state and the nation. To accomplish this mission, we work to:
Build a broad movement of Iowa workers by helping workers join and form unions.
Support Iowa workers as they bargain with employers to improve their living conditions and workplaces, as well as their communities, state and nation.
Strengthen the voice of Iowa working families at all levels of government and in a changing global economy.
The Iowa Federation of Labor, AFL-CIO is a key part of the nation's largest and strongest labor federation—the AFL-CIO, which unites 12.5 million working women and men of every race and ethnicity and from every walk of life.
The Political Director is based in Des Moines and will travel throughout the entire state.
Responsibilities include but are not limited to:
Supervise all in-state political staff;
Manage overall direction and focus of political program for the entire state;
Plan and coordinate political field activities, phone banking and other events for the federation such as the IFL annual convention, the IFL Legislative Conference, and the COPE Endorsement Convention;
Coordinate the mobilization, training, and education of new member leaders and activists for legislative and electoral activity;
Plan and supervise electoral program for state and federal elections;
Identify opportunities and drive organizational engagement in ongoing legislative and issue campaigns.
Work with the Area Labor Federation (ALF) staff and leaders to develop and implement a statewide public policy and political agenda throughout the region.
Manage and coordinate the union's work with local labor and community allies
Provide political, electoral, legislative and fundraising updates and reports to Union Officials, Leaders and rank and file members.
Support legislative campaigns, including rallies, press events, and affiliate actions
Qualifications include:
Experience coordinating legislative, electoral, or community organizing campaigns;
Ability to design and implement powerful and effective campaign plans;
Experience working on electoral campaigns and managing field programs;
Excellent communications skills and experience building strong working relationships with stakeholders across Unions;
Willingness to work a flexible schedule including occasional evenings and weekends, and to travel as needed.
Experience working with labor unions, union members, and allies who are aligned with the labor movement's values.
Compensation:
We offer a competitive salary based on experience. We provide a full benefits package including employer-paid medical, vision, and dental coverage for employees and their eligible dependents, a defined benefit pension plan, and an optional 401(k).
To Apply:
Please email a résumé and letter of interest by July 30th to Charlie Wishman, subject "Political Director", at charlie@iowaaflcio.org and peter@iowaaflcio.org.
WHEN APPLYING: Be sure to indicate that you saw this information at UNIONJOBS.COM.