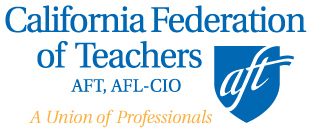 California Federation of Teachers, AFT, AFL-CIO

Part-Time Faculty Campaign Coordinator



(Special Project Full-Time Employee)
May be based in Berkeley, Burbank, or Sacramento, CA
Position Title: Part-Time Faculty Campaign Coordinator (Special Project Full-Time Employee)
Employment Period is Temporary: Two Years
Employment State Date: Approximate – September 1, 2021
Location: CFT Office (Berkeley, Burbank, or Sacramento)
Salary Range: $85,764 – $119,845 (Steps 1–5 on salary schedule, depending on qualifications and experience), plus employee fringe benefit package: health, dental and vision plans and 401K retirement plan.
Deadline to apply: July 30, 2021
The CFT is the California affiliate of the AFT, AFL-CIO representing education workers in public and private schools and colleges, from early childhood through higher education.
Under the general direction of the CFT President or designee, the Part-Time Faculty Campaign Coordinator for the CFT performs a wide range of tasks covering statewide advocacy, strategic planning and organizing for part-time and contingent faculty in higher education. The focus of the position is to help further the CFT's priorities and policies with regard to the rights and benefits of part-time faculty and help to organize a campaign statewide and locally to implement these priorities.
Qualifications and experience
Part-time faculty experience in strategic campaign planning, organizing, contract development and negotiations, working knowledge of public employee collective bargaining laws and national labor relations law and practice, membership organizing and recruitment, issue campaigns and California elections
Broad understanding of the critical issues and problems facing part-time and contingent faculty and higher education in California and the nation including equity pay, reemployment rights and working conditions
Experience and knowledge with campaign organizing and project management
Must be able to travel in a broad urban geographic area
Current California driver's license
Duties and responsibilities
Develop and implement part-time advocacy campaigns
Help coordinate political action activity on part-time faculty issues
Coordinate members to participate in legislative hearings on part-time issues, as well as to be able to testify at legislative hearings on behalf of CFT on part-time faculty issues
Assist as assigned with organizing efforts involving part-time faculty
Represent the CFT policy and positions on part-time faculty issues at a variety of venues
Coordinate part-time faculty meetings or workshops, as assigned, at the state and local level
Help to connect part-time member issues with full-time members issues at the local and state level
Attend and provide support to the Community College Council Part-Time committee meetings
Work cooperatively with part-time and full-time faculty and other CFT staff to carry out duties and responsibilities of the position, and coordinate support for part-time faculty equity issues among all segments of CFT
Other duties as assigned
Knowledge, Skills, and Abilities:
Knowledge of public and private sector labor law
Knowledge of collective bargaining laws (NLRB, EERA, HEERA)
Knowledge of California education law
Knowledge of part-time faculty issues on equitable pay, reemployment rights, and working conditions
Knowledge of CFT's positions on higher education issues
Knowledge of school finance
Knowledge of AFL-CIO labor relations
Knowledge of AFT/CFT special services and benefits
Knowledge of supporting or fostering racial and gender diversity within all educational training
Knowledge of building solidarity among different segments of educational workers
Ability to write clearly and edit to audience
Ability to work rapidly and accurately during rush periods
Ability to strategize, organize, plan activities, and set priorities
Ability to take charge and to direct, develop and coordinate activities
Ability to secure relevant information and solve problems
Ability to make decisions, render judgments and take appropriate action
Ability to work with others
Ability to work independently with a minimum of supervision
Ability to research work-related questions in appropriate sources
Ability to analyze budgets
Ability to accurately and coherently compose correspondence, basic campaign literature, flyers, and bargaining language
Ability to make public presentations to audiences in a range of venues
Ability to design and present training sessions
Ability to set up and run phone banks
Membership in the CFT Field Representatives Union is required.
To Apply:
Submit letter of application, résumé, references and at least three written samples to:
California Federation of Teachers, AFT, AFL-CIO
Leticia Castro, Director of Administrative Services
1107 9th Street, Suite 460
Sacramento, CA 95814
Or email to Human Resources.
If you have any questions, please email Sarah Callahan, Executive Director, or phone 510-523-5238.
Further details may be found HERE.
The CFT is an equal opportunity affirmative action employer
WHEN APPLYING: Be sure to indicate that you saw this information at UNIONJOBS.COM.