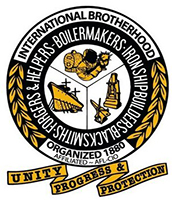 International Brotherhood of Boilermakers, Iron Ship Builders,
Blacksmiths, Forgers & Helpers, AFL-CIO/CLC

Western States Director of Organizing
Western United States Section
(Alaska, Arizona, California, Colorado, Hawaii and the Islands of the Pacific,
Idaho, Montana, Nevada, New Mexico, Oregon, Utah, Washington and Wyoming)
About the Boilermakers
The International Brotherhood of Boilermakers, Iron Ship Builders, Blacksmiths, Forgers & Helpers, AFL-CIO/CLC, represents members across North America employed in industrial construction and maintenance, shipbuilding, cement making, railroads, manufacturing and allied industries. Organized in 1880, we are headquartered in Kansas City, KS. We are a diverse union, with members engaged across a range of industries, from energy to mining to commercial and naval shipbuilding to consumer products. The Boilermakers' family of organizations includes Bank of Labor, the MOST trust (with 17 industry-leading programs for safety, training and work readiness), the Boilermakers National Apprenticeship Program and the Boilermakers National Funds.
About the Position
The International Brotherhood of Boilermakers is seeking applicants for the position of Western States Director of Organizing. This position will be responsible for developing and implementing the Western States Organizing program.
Responsibilities
Lead the Western States Organizing Department, including supervision and training of organizing staff.
Develop and oversee implementation of a comprehensive external organizing program.
Utilize data management tools to track progress toward organizing goals.
Lead external organizing campaigns focused towards areas such as metal fabrication shops, shipyards, railroad manufacturing and repair, and so on.
Identify and assess organizing opportunities, focusing the Brotherhood's resources on strategic targets and campaigns.
Design strategies and structures to engage members and build leadership identification, recruitment and development in organizing campaigns.
Experience
10 years minimum experience leading successful union external organizing campaigns;
Demonstrated commitment to the Labor Movement, economic and social justice, and improving the lives of working men and women;
Strong communication, leadership and management skills; and
Willingness to travel extensively, with little or no notice.
Political campaign people need not apply.
Compensation
Competitive salary commensurate with experience will be offered to successful candidate.
How to Apply
Submit a cover letter, résumé and at least two writing samples (preferably handbills or other literature from prior campaigns in which you successfully organized units) electronically to:
Kym Savage, Administrative Secretary
International President's Office
*No phone calls please
Email: ksavage@boilermakers.org
Applications will be accepted on a rolling basis until the position is filled.
Our organization is an equal opportunity employer that actively seeks to build diversity. Women, people of color, LGBTQ, Veteran, and disabled individuals are fully respected and encouraged to apply.
For more information on the International Brotherhood of Boilermakers, please visit our website at: www.boilermakers.org.
WHEN APPLYING: Be sure to indicate that you saw this information at UNIONJOBS.COM.