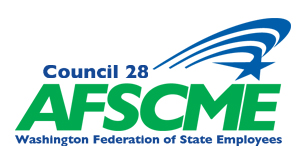 AFSCME Council 28
Washington Federation of State Employees

Organizer or Journey Organizer
(depending on qualifications and skill level)
Based in Seattle, WA
Who We Are:
The Washington Federation of State Employees (WFSE) has a long history of fighting for workers' rights and employee benefits while tackling social justice issues with passion and energy. The WFSE, Council 28 has been operating in the state capital for over 75 years. Our staff fight for fairness and equality as well as ensuring the hard working men and women of state government, higher education institutions, and public service workers get better pay, better health care, better retirement, and a healthy work environment. There's more to accomplish, and with the right personnel, we believe we can accomplish it. Come join our team and be a part of a larger mission that will make an impact for years to come. Learn more about who we are at: wfse.org.
What We're Looking For:
Are you passionate about fighting for workers' rights? Making your voice heard for fair and equitable wages, health care, and working conditions for public service employees? Are you looking to apply your labor background and leaderships skills in a dynamic way? If so, the Washington Federation of State Employees (WFSE) is recruiting to fill two (2) positions at the Organizer or Journey Organizer level depending on qualifications and skill level. This position reports to the Director of Organizing and is responsible for all aspects of an organizing campaign including: effective one-on-one communication with workers at work sites and in their homes; developing organizing committees of worker leaders, campaign preparation, investigations, research, house calls, list development and maintenance, running worker meetings and directing workplace actions.
This position leads, trains and mentors campaign staff, develops written campaign plans, conducts research, analyzes data and applies other criteria to assess potential organizing targets. This position writes reports, develops and produces campaign messages and assess progress of organizing campaigns. Organizers are critical to the success of the WFSE and initiating or expanding union organizing campaigns by: building lists of employees at targeted worksites; gathering data, having conversations and assessing interest at non-union work sites; developing and implementing work plans which carry out the campaign strategy; planning and leading meetings and actions in support of the campaign strategy; and building strategic alliances and relationships within the broader community.
Additional duties include:
Moving workers to take action in support of the campaign.
Recruiting workers to join in collective action.
Develop individual leaders and the committee as a whole so that they are more confident, capable and active in their leadership of the campaign.
Using reports to analyze the campaign data and determine next steps.
Lead, assign, and collaborate with organizing staff including developing individual work plans with organizers and debriefing their implementation.
Required Qualifications for Organizer:
Is educated in, or has experience with, labor unions, labor or community organizing, and basic organizing principles to win elections or move people into action.
Possess good written and oral communication skills, by reading, writing and communicating effectively.
The ability to present information and speak clearly to groups of varying sizes.
Experience solving problems by analyzing and interpreting data.
Pro union and commitment to the values of worker organization and solidarity.
Interest and curiosity about public services and the people who provide them and their vital importance to the State of Washington.
Required Qualifications for Journey Organizer:
Three (3) years' experience of external union organizing.
Experience in all elements of an organizing campaign, including leading other organizers and members to win campaigns and elections.
Must be able to work independently with elected leaders in complex political and local union situations.
Desirable Qualifications:
Successful track record of winning NLRB/PERC elections or card checks.
Ability to develop effective winning strategies using power analysis and strategic campaign tactics.
Desire and commitment to growing the union at WFSE and to helping state and higher education workers lives better through union membership.
Special Note:
This is a full-time, permanent position. Travel is required based on campaign needs. Must have a valid driver's license, use of personal vehicle, and valid vehicle insurance. Release of driving record required prior to interview. Out of state candidates must provide drive record at the time of interview. Benefits include annual and sick leave, cell phone allowance, vehicle allowance, medical/dental, life, and long term disability insurance, and holidays. Salary range for Organizer is $52,703 – $62,585. Salary range for Journey Organizer is $66,209 – $78,067 and will be determined commensurate with experience.
How to Apply:
To be considered for this position(s), applicants must submit a résumé, letter of interest, and at least three (3) professional references to: resumes@wfse.org. Your letter of interest should clearly explain how your experience, training, and education make you a viable and competitive candidate for this position.
This position is open until filled; however, It is to the applicant's advantage to apply as early as possible.
The Washington Federation of State Employees is committed to providing equal employment opportunity and equal access in a non-discriminatory manner to its programs and services for all persons without regard to race, creed, color, marital status, gender, sexual orientation, religion, age, national origin, political affiliation, honorably discharged veteran or military status, or the presence of any real or perceived sensory, mental, or physical disability.
Persons requiring accommodation in the application process or for an alternative format may contact the Interim Executive Director, Kurt Spiegel, at (360) 352-7603 or kurts@wfse.org. Persons of disability or those who are deaf or hard of hearing can call the Washington Relay Service by dialing 7-1-1 or 1-800-833-6388. The WFSE complies with the employment eligibility verification requirements of the Federal Form I-9. The selected candidate must be able to provide proof of identity and eligibility to work in the United States consistent with the requirements of that form on the first day of employment.
WHEN APPLYING: Be sure to indicate that you saw this information at UNIONJOBS.COM.