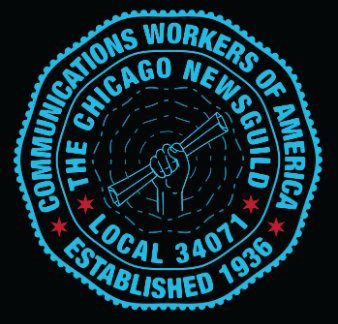 Chicago News Guild
TNG-CWA Local 34071

Staff Representative / Contract Campaign Lead
Based in Chicago, IL or Washington, DC
(currently remote until safe to return)
Chicago News Guild (TNG-CWA Local 34071) is a union representing more than 400 workers in news, public sector, labor staff, education and activism. We're committed to running winning contract campaigns that knit actions with an overall bargaining strategy that is aggressively member-led.
Chicago News Guild is a local union of The NewsGuild, which represents over 25,000 workers across North America. The NewsGuild is a sector of Communications Workers of America, which represents members around the U.S. and Canada in media, broadcasting, nonprofits, telecommunications, airlines and more.
Chicago News Guild seeks candidates for a full-time Staff Representative/Contract Campaign Lead position starting remotely with work moving in-person preferably in Chicago or Washington, D.C. when it becomes safe, for one year with a possible additional one year extension.
This is a hands-on position that will work daily with bargaining committees, shop stewards, contract action teams and the membership. Only persons with extensive experience running contract campaigns, bargaining and organizing should apply. If you do not have these qualifications your resumé will not be considered.
Job duties include:
Work with members to develop and implement contract campaigns for first contracts at newly-organized newsrooms
Assist members to negotiate contracts and execute contract campaigns with maximum member participation and leadership engagement
Assist members in development of contract language based on member surveys and member priorities
Develop members to become capable of executing important union roles that give them the chance to grow, learn and lead
Where appropriate, recommend and assist with filing ULPs/UPCs, grievances, and other actions necessary for contract enforcement and campaign organizing, especially when doing so is designed to increase membership involvement or union strength in a worksite or at the bargaining table
Assist members to map and chart workplaces, maintain spreadsheets, and track assessments
Assist members to build leadership networks and structure tests, both for internal and external organizing campaigns
Develop and run regular membership training on bargaining, organizing and running campaigns that emphasize member and community involvement
Communicating clearly and authoritatively for media professionals
Being familiar with labor law and having extensive experience crafting contract proposals and counter proposals
Building strong internal leadership structures and member networks
Understanding rapidly shifting media landscape, including social media and new media tech
Contract enforcement, including grievance handling, disciplinary appeals and arbitrations - Focusing on internal organizing and membership/leadership development
Regularly coordinating with local and national NewsGuild staff to set weekly goals, track progress, and brainstorm through challenges
Salary: $85,000, or higher commensurate with experience, with benefits including cell phone reimbursement, 401(k) match and medical, vision and dental benefits.
To Apply:
Applicants should send a résumé, cover letter and three references to Chicago News Guild President Andy Grimm at andygrimm34@gmail.com by May 14, 2021.
WHEN APPLYING: Be sure to indicate that you saw this information at UNIONJOBS.COM.