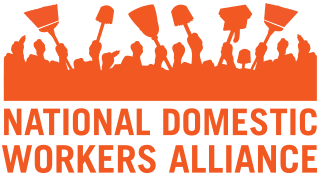 National Domestic Workers Alliance

Digital Organizing Director
Based in New York City, NY



(currently working remotely)
Title: Digital Organizing Director
Reports To: Senior Field Director
FLSA Status: Exempt
Salary: $90,000 – $100,000 DOE
Work Location: Remote
Position Summary:
The National Domestic Workers Alliance (NDWA) is the nation's leading voice for respect, recognition and labor standards for nannies, house cleaners and home care workers. Through leadership development, strategic campaigns and alliance building, we are raising employment standards for the domestic workforce while building a powerful movement for social and global justice.
NDWA was founded in 2007 by 13 local domestic worker organizing projects. As of 2021, the alliance has grown to include 75 local affiliate organizations and chapters, and a base of thousands of individual workers who have joined NDWA directly. We are building a mass base of nannies, housecleaners, and home care workers, including workers who are connected to local organizations as well as others who are in places where there is no local organization for them to join. NDWA is the home for all domestic workers in the U.S. to work together toward a shared vision of dignity and respect for all domestic workers, and for an economy and a democracy that work for us all.
Since domestic workers work in isolation, behind closed doors and in private homes, much of our domestic worker outreach, worker communications and programming is conducted using digital tools. NDWA seeks a skilled, visionary and motivated Digital Organizing Director to lead our domestic worker Digital Organizing Department. The successful candidate will be a visionary, big picture thinker who has digital organizing prowess and a track record of developing large-scale digital programs. The position requires skills for metrics-based evaluation and planning, as well as a spirit of innovation, experimentation and creativity to design a digital organizing program for this unique workforce of nannies, housecleaners and home care workers. The Digital Organizing Director will be a skilled and experienced team leader with strong project management and supervisory skills.
Primary Responsibilities
The Digital Organizing Director will lead and manage the members of the domestic worker Digital Organizing Team, which includes digital organizers, digital campaigners and data specialists. The Team is responsible for building and implementing an excellent online experience for domestic workers nationally, as well as using digital tools to grow the local base of NDWA's chapters. This includes:
Digital outreach, conversion and onboarding of new domestic worker contacts;
Communications to engage domestic workers in campaigns, both online and off
Design and execution of digital actions;
Creation of online spaces for community-building, learning and leadership development;
Conversion, onboarding and retention of dues-paying members, as well as delivery of member benefits;
Maintenance of domestic worker data systems, and support for organizers to use data strategically in their local and national organizing work;
Experimentation with an evolving suite of digital tools to meet the needs of workers whose access to technology is typically lower than that of the general public.
The Digital Organizing Director will:
Establish a strategic vision and plan for growth of NDWA's domestic worker base--including targeted digital outreach and organizing plans in new locations and to reach target demographic groups
Establish a clear, seamless user journey and compelling user experiences, and oversee the various mechanisms, products, and tools to find, engage, organize and retain domestic workers
Refine NDWA's theories of digital organizing and online engagement, including experimentation with different digital tools and channels.
Refine NDWA's membership model and strategies for conversion and retention of dues-paying members.
The Digital Organizing Director will work closely with other director-level staff who lead distinct areas of NDWA's field work and who together create a unified and powerful domestic worker field program. The Director will also work in close collaboration with the leads of other NDWA teams including innovations, tech, supporter-facing digital, and data--ensuring effective and generative cross-team coordination and success in meeting shared goals.
Required Qualifications
Minimum seven years' experience in a digital leadership position of a social movement organization--including time in a Director-level role.
Experience leading vision, strategy and execution for large-scale digital organizing and membership-building programs.
Product development experience, including with platforms for membership growth, retention and benefits delivery.
Vision for how digital tools can help build and engage a base of low-wage workers. Awareness of the limitations in technology access in low-wage worker communities, and creativity for navigating and overcoming these limitations.
Experience with data informed online organizing, including multi-channel digital engagement tracking, list segmentation, A/B testing and CRMs. Direct experience with EveryAction and/or other advocacy platforms.
Experience with peer to peer and broadcast text. Direct experience with ThruText or Hustle as well as with Mobile Commons or similar broadcast SMS tools.
Experience with strategic use of Facebook and other social media platforms, as well as social media management systems and online tools.
Experience and skills to train and lead teams to design and run rigorous experiments, document and report on learnings, and iterate and innovate based on lessons learned.
Big systems thinker, and ability to develop, monitor and maintain complex systems at scale.
Excellent project management skills.
Excellent supervisory and team management skills
Familiarity with the domestic worker sector and issues facing domestic workers and other low-wage workers, and hunger to build innovative organizing models for worker power.
Bilingual English/Spanish is a plus, though not required.
Women, People of Color, People with Disabilities and LGBTQ people strongly urged to apply.
To Apply
Applications will only be accepted electronically. Please submit a cover letter, résumé, and one professional writing sample here: https://domesticworkers.bamboohr.com/jobs/view.php?id=175.
This position will remain open until filled.
WHEN APPLYING: Be sure to indicate that you saw this information at UNIONJOBS.COM.