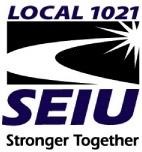 SEIU Local 1021

Organizing Director
Based primarily in Northern California
Summary: Under the supervision of the Executive Director or designee, the Organizing Director is responsible for all aspects of the union's organizing program. The Organizing Director plans and executes high-impact organizing programs, in collaboration with both the national office and affiliate colleagues, that result in immediate-term success and long-term capacity building.
Primary Responsibilities and Duties:
Head of senior organizing team, responsible for creating and overseeing the implementation of the Local's external organizing program and budget
Manage organizing staff for program success and professional growth
Work with coordinators, as a team and individually, to set goals, create plans to meet those goals and ensure accountability
Act as an agent of change, consistently challenging coordinators, leads and other organizing staff to think differently about their work and the Local's vision
Oversee all aspects of external organizing campaigns in various sectors of the union.
Coordinate with the senior leadership team to ensure that all necessary resources are available to move organizing program especially in areas where the Local has a membership base
Report on organizing work, successes and lessons learned to the Executive Director or designee
Work to build digital organizing campaigns/tactics to complement traditional organizing work. This includes leading the development of long-term digital organizing
Lead the development of a team approach to the work – both among staff members and between staff and member organizers
Responsible for ensuring that the Organizing Department involves members in the Local's organizing campaigns
Coordinate with field and operational directors on creation and implementation of local-wide programs
Promote a culture of organizing throughout the Local Union
Liaison with the International around external organizing issues
Determine need for and supervise use of consultants for specialized knowledge on a project-specific basis
Perform other related duties as required/assigned by the Executive Director or designee
SKILLS AND ABILITIES:
Knowledge of effective organizing principles and applicable laws
Ability to carry out goals and meet timelines, demonstrating a high level of leadership and independent judgment within the context of an overall plan and structure
Demonstrated ability to supervise, develop, mentor staff and fiscally manage budgets
Strong communication skills in one-on-one and group settings
Exercise excellent judgment while working under extreme pressure
Manage leadership of team spread over wide geographic area
Excellent written and oral presentation skills
Work effectively as part of senior leadership team(s)
Ability to work well in a dynamic, fast-paced and collaborative team environment
Willingness and desire to learn new technologies, tactics, and strategies
Proficiency with Microsoft Office applications especially Word, Excel and Outlook
Minimum Qualifications:
Bachelor's degree or equivalent combination of education and experience
5+ years of experience in union organizing
A minimum of 3 years of supervisory experience, including leading and training of staff
Commitment to racial, gender and economic justice and their intersections, both inside and outside organizations
Proven ability to win organizing campaigns and provide effective leadership
Special Requirements:
Willingness to work irregular and long hours, including weekends and holidays to attend required evening and weekend events/meetings.
Extensive travel may be required, primarily within Northern California.
Driving Requirements:
Must possess a valid California driver's license; pass a DMV check and have a good driving record
Have auto insurance that covers business driving (minimum of $100,000 per person/$300,000 per incident bodily injury liability/$50,000 property coverage); and must possess an automobile for business use.
Salary and Benefits: Salary starts at $116,215 and is based on qualifications and experience. SEIU Local 1021 offers a competitive and comprehensive benefits package. Including fully employer-paid family health coverage (including domestic partners), life insurance, a defined-benefit pension plan, 401(k) plan and generous paid leave time.
To Apply:
Mail, fax, or e-mail a cover letter. Include a detailed résumé and the names, addresses, and phone numbers of three (3) references to:
Mailing address: SEIU Local 1021, 447 29th Street, Oakland, CA 94609
Fax: (510) 893- 2395
E-mail: jobs@seiu1021.org
Indicate the position you are applying for on your cover letter.
This position is open until filled; however, the posting/acceptance of applications may close at any time.
Affirmative Action Employer: SEIU Local 1021 is an affirmative action employer and encourages applications from all qualified candidates regardless of race, ethnicity, age, sex, sexual orientation, marital status, religion, or disability. Local 1021 works to ensure fair treatment of applicants and employees and actively enforces policies against discrimination and sexual harassment.
WHEN APPLYING: Be sure to indicate that you saw this information at UNIONJOBS.COM.