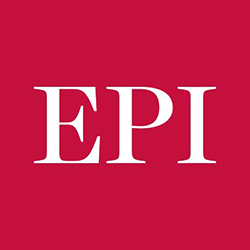 Economic Policy Institute

Human Resources Director



Based in DC Metropolitan Area



(currently REMOTE)
The Economic Policy Institute (EPI), the nation's leading progressive economic think tank, is seeking a collegial, dynamic, pro-active, experienced Human Resources Director to oversee and implement all functions related to the full cycle of human resources, payroll, and benefits.
EPI is an independent, nonprofit, nonpartisan research center that investigates the impact of economic trends and policies on typical families in the United States. EPI currently employs around 50 people and has a budget of $11 million. Our mission is centering the policy debate on the economic interests of workers and low and middle-income households. EPI is a key institution in the movement for economic justice in the United States and is widely recognized as a source of authoritative analysis on economic inequality and racial and gender justice. EPI is a unionized workplace, and the HR Director will work closely with the staff union to share information, address concerns, and build a strong, equitable, and welcoming organization.
EPI believes that having a diverse and inclusive workplace not only strengthens the institute's work, but is essential for understanding and creating economic policies that support all working people. EPI is an equal opportunity, fair chance, affirmative action employer, committed to building a diverse and inclusive workforce. All qualified applicants will be considered for employment without regard to race, color, creed, national origin, sex, age, disability, marital status, sexual orientation, military status, prior history of arrest or conviction, citizenship status, caregiver status, or other categories protected by law.
This position is based in Washington, D.C. EPI staff are currently working remotely due to the coronavirus pandemic. We will resume in-person work at EPI's offices in downtown Washington when it is safe to do so.
WHAT YOU WILL DO
Administer and oversee employee benefits; recommend changes where beneficial.
Manage and coordinate employee review processes, assuring completion within prescribed deadlines.
Lead diversity, equity, and inclusion process to strengthen ongoing work on recruitment, retention, and workplace atmosphere.
Participate in staff union negotiations and ongoing consultations.
Oversee job descriptions and research compensation ranges for new hires, promotions and annual updates. Periodically survey wage comparability/internal equity.
Coordinate posting, recruiting, and on-boarding new team members.
Coordinate off-boarding of departing employees.
Complete/oversee payroll processing (currently using ADP Workforce Now) and suggest potential process improvements.
Perform payroll audits.
Maintain payroll system/databases.
Administer electronic timesheets and leave requests/banks.
Monitor and assure that all legal requirements and reporting functions are met regarding payroll and benefits.
Financial reporting: Assist Director of Finance and Administration and other staff in reviewing and maintaining consistent records to prepare regular financial reports.
Assist in developing processes and customized reports for allocations and budgeting.
Create and/or update HR documentation, including personnel policies, office procedures, employee handbook, benefit handbook.
Interact with staff to address all ongoing personnel issues (including questions on benefits, policies, etc.).
Initiate and oversee the full cycle of any work visas.
WHO YOU ARE
Required
Bachelor's degree in Human Resources, business or a related field OR equivalent experience
Minimum of seven (7) years of experience in Human Resources
Minimum of one (1) year of experience in a unionized workplace
Minimum of one (1) year of experience in payroll administration (Preferably ADP Workforce Now)
Preferred
Human Resources Certifications (PHR, SHRM-CP).
Working knowledge of administrative and supervisory principles and practices; compensation and benefits administration; organizational planning.
Strong people skills, positive approach to problem-solving, team player.
SALARY AND BENEFITS
The salary for this position will range from $100,000 to $120,000, depending on experience. EPI offers an excellent benefits package, including generous paid time off, as well as retirement contributions, medical, vision, dental, short- and long-term disability, and life insurance.
EPI is a unionized workplace with the Nonprofit Professional Employees Union (NPEU). The human resources director is not in the union.
TO APPLY
Candidates should send a résumé and cover letter highlighting their relevant experience and explaining their interest in working at EPI to: hr@epi.org. Applications without a cover letter will not be considered.
WHEN APPLYING: Be sure to indicate that you saw this information at UNIONJOBS.COM.