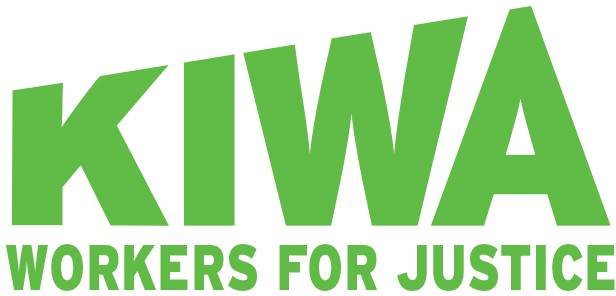 Koreatown Immigrant Workers Alliance

Organizer

Based in Los Angeles, CA
About KIWA: KIWA is a multiracial worker center. Founded in 1992 in Koreatown, Los Angeles, the mission of KIWA is to build the power of immigrant workers and residents and to organize a powerful grassroots leadership to transform our workplaces and communities, in Koreatown and beyond. We engage in workplace organizing campaigns; policy and strategic enforcement to advance workplace and housing justice; affordable housing development; and services in Spanish, Korean, and English. We are a membership-based organization with a mostly Latinx and Korean immigrant worker base. Organizing and leadership development are central to our work and key to our vision for a just society. We work primarily in the areas of immigrant workers' rights, workplace justice, and tenant & housing justice. We are a movement-building organization.
About the position: Organizers work both independently and as part of a team to recruit and organize workers and tenants as KIWA members, and support them to develop their leadership to win concrete changes at the workplace, in our communities, and through policy. At the heart of organizing is the one on-one. Organizers also conduct community outreach and education on one or more projects related to workers,' tenants,' & immigrants' rights, public health, and/or environmental sustainability. Organizing positions include some weeknights, early mornings, weekends, and travel. As a staff member, you will also support KIWA's services, operations, and fundraising. We are hiring at all levels.
Requirements:
Quick learner with a willingness to work hard and develop as an organizer, especially through 1:1s.
Positive, energetic approach. Ability to motivate, move, and inspire people. Willingness to take initiative and use creativity to achieve our shared objectives.
Understanding of KIWA's mission and a commitment to building power with immigrant workers and tenants. Commitment to worker and tenant organizing in a multiracial context.
Integrity and mature judgment.
Ability to pay attention to detail and to the big picture.
Must be fluent in English and also in Korean and/or Spanish.
Ability to communicate effectively with immigrant workers, tenants, and allies.
Must have a car in good working order, driver license, insurance. Driving is part of the job.
Salary:
Based on years of relevant work experience. Senior organizers have at least 5+ years' experience.
OIT (entry level): $45,000+ (non-exempt). Organizer: $50,000+ (non-exempt). Senior Organizer: $55,000+ (exempt)
Employee healthcare, paid leave, holidays, phone subsidy, field subsidy, CalSavers.
To Apply: Email cover letter, résumé, and contact info and affiliation for 3 references to: jobs@kiwa.org, with "Organizer position" in the subject line.
Applications accepted until positions filled or cancelled.
WHEN APPLYING: Be sure to indicate that you saw this information at UNIONJOBS.COM.