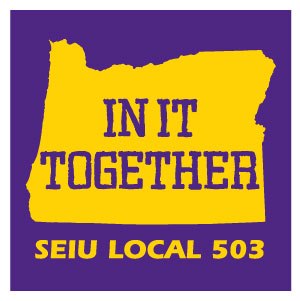 SEIU Local 503
In It Together

Communications
Public Services Division
Based in Portland, OR
SEIU 503 – Oregon's largest labor union – is looking for a permanent, full time Communications professional with 4+ years' experience to work with our Public Services Division. This position is located in Portland or Salem however applicants will initially be working remotely due to COVID-19 office closures.
About SEIU 503
SEIU 503 is a union of 72,000 public services workers and care providers in Oregon. We are part of the 2 million member Service Employees International Union (SEIU), committed to building power for low-wage workers and engaging in social and economic justice issues facing working families, from affordable housing to immigrant rights and more. Lean more about our union at: Seiu503.org.
About The Job
The Communications Organizer is responsible for developing and executing strategic campaign-based communications plans. You will support campaigns from all areas of the union, including (but not limited to) internal organizing, political, community organizing, alliance building, and bargaining. This role is specifically embedded within our Public Services Division, which represents State employees, workers at Oregon's seven public universities, local governments and private non-profits.
The duties of this position cover a large variety of skills, more than any one person can master. Successful applications should be able to demonstrate expertise in several, but not necessarily all, of the following skill areas: writing, graphic design, digital marketing, video editing, message development, front-end web design, or media relations. We are curious to know where in this mix you are strongest.
General Description of Duties
Content Creation:
Produce from start to finish email newsletters and rapid response email communications.
Design field materials such as flyers, buttons, t-shirts and signs.
Write blog posts, press releases talking points and social media content.
Produce videos for social media and websites.
Digital Strategy:
Advise on the use of digital tools to achieve campaign goals. Common tools include online petitions, lead capture forms, write-your-legislator pages, digital events, and social media storms.
Use social media, email, peer-to-peer text, Seiu503.org, digital advertising and other tools to achieve campaign goals.
Communications Strategy and Planning:
Coordinate with field and political teams to write communications plans for campaigns.
Work with the Communications Director to identify goals, metrics and feedback processes to continually improve the department's product.
Help teams develop effective messaging that moves people to action.
Requirements
Four or more years in campaign communications, labor communications, public affairs, journalism, other progressive non-profit organizations or other related experience;
Ability to work independently under limited direction and balance conflicting demands and to lead, teach and train other colleagues including communications staff and field staff;
Actively and demonstrably committed to the purpose and vision of SEIU 503;
Desired Skills
Writing
Graphic design
Digital marketing
Video editing
Message development
Front-end web design
Media relations
Ability to quickly and independently learn new software programs, including platforms for email marketing, peer-to-peer texting, and social media scheduling. Additionally our organization uses a Salesforce CRM, Adobe creative suite, WordPress and other software tools to do our work.
Bilingual (Spanish) a strong plus
Pay and Benefits: Organizing positions provide comprehensive fully paid health, dental and vision benefits for employee and eligible dependents, domestic partner benefits, generous holiday and vacation policies, a monthly car and cell phone allowance, and a 15% employer-paid defined contribution 401K. Compensation range is based on experience $56,676-$84,204 annually.
Hiring: We are committed to hiring staff who reflect our membership and model the unity and equity that we seek to create in Oregon communities. Women, LGBTQ, people of color, and immigrants strongly encouraged to apply.
How to Apply: Submit a cover letter and résumé (PDF preferred) to Ben Morris, SEIU 503 Communications Director, at: morrisb@seiu503.org. In your cover letter, please reference the skill areas mentioned above and note which areas are your strongest.
WHEN APPLYING: Be sure to indicate that you saw this information at UNIONJOBS.COM.