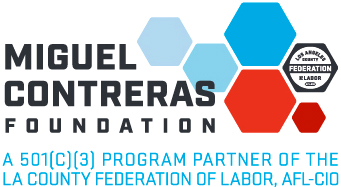 Miguel Contreras Foundation


a program partner of the Los Angeles County Federation of Labor, AFL-CIO

Director
Labor One Stop Center
Based in Los Angeles, CA
ABOUT US: The Miguel Contreras Foundation, a program partner of the Los Angeles County Federation of Labor, is a 501c(3) non-profit organization whose mission is to empower working Angelenos – especially women immigrants and communities of color – by advancing greater equity through access to good quality jobs and livable communities. The foundation seeks to scale our innovative programs that empower people and contribute to an opportunity economy through sustainable, equitable careers regardless of background.
POSITION DESCRIPTION (ESSENTIAL JOB RESPONSIBILITIES): The Director will manage and direct the organization, staffing, fiscal, and operational activities of the organization's Labor One Stop Center.
Collaborate with Labor Management Training Partners to create an integrated labor-focused employment training system and programs.
Provide leadership in the development and implementation of goals, objectives, policies, and priorities for the Labor One-Stop Center.
Provide leadership with organizational planning and coordinate the development of strategic plans, program evaluation processes and program assessment.
Hire, direct, and support program staff who provide career education, counseling, job readiness, support services, and assessment testing.
Identify opportunities for improving service delivery methods and procedures; review with appropriate management staff; implement improvements.
Attend and participate in professional group meetings; stay up to date on new trends, funding, and innovations in the field of Workforce Development.
Oversee program grant writing, administration, and compliance.
Perform additional duties and responsibilities as assigned.
SKILLS/KNOWLEDGE REQUIRED: Our ideal candidate is a proven leader who is passionate for expanding career and life opportunities for underserved workers.
5+ years of executive or senior-level management experience
Experience in planning/developing Taft-Hartley training programs with labor unions
Experience creating and managing organizational program budgets and financial analysis
Experience hiring, training, and supervising program staff
Experience in developing curricula and managing workforce development programs
Experience in grant writing, administration, and compliance
Experience with workforce development contract negotiations, administration, and compliance
Demonstrated understanding of current and emerging labor movement trends and needs
Experience serving target populations: people of color and the formerly incarcerated, immigrants, and women
Commitment to social justice and bottom-up social change
BENEFITS OF EMPLOYMENT: MCF is a leader in providing equitable salaries and benefits, and a supportive working environment that fosters the long-term leadership development of its team members.
Starting at $100,000+ (commensurate with experience)
Generous Medical/Dental/Vision/Life/Disability/Retirement Benefits
Generous Paid Time Off/Family Leave
$1,800/year car insurance/car repair reimbursement
$500/month transportation stipend
$120/month technology stipend
Deferred Action for Childhood Arrivals (DACA) Application and Renewal fees covered
TO APPLY: Please send your cover letter and résumé to: info@miguelcontrerasfoundation.org, with the subject "Director, Labor One Stop Center". Applications are accepted on a rolling basis until the position is filled.
It is the policy of Miguel Contreras Foundation to provide equal employment opportunity (EEO) to all persons regardless of age, color, national origin, citizenship status, physical or mental disability, race, religion, creed, gender, sex, sexual orientation, gender identity and/or expression, genetic information, marital status, status with regard to public assistance, veteran status, or any other characteristic protected by federal, state or local law.
WHEN APPLYING: Be sure to indicate that you saw this information at UNIONJOBS.COM.