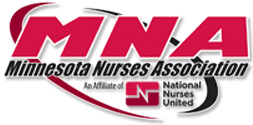 Minnesota Nurses Association
345 Randolph Avenue #200, St. Paul, MN 55102
Fax: 651-695-7000 Web: www.mnnurses.org

Organizing Manager
Based in St. Paul, MN



(travel required)
The Organizing Manager oversees the external organizing program of MNA. MNA has grown through organizing from 20,000 to 23,000 over the last 7 years and has many organizing targets to pursue. Our officers, staff and members strongly support our organizing program.
POSITION OVERVIEW
The Organizing Manager is responsible for hiring, supervising, directing, evaluating and training organizers and a researcher, developing organizing strategies aligned with the strategic priorities of MNA and integrated into the planning process of MNA.
The Organizing Manager reports to the Director of Field Operations.
ABOUT MNA
The Minnesota Nurses Association stands strong for nurses, patients, and quality healthcare. We are 22,000 dedicated RNs and other healthcare professionals in Minnesota, Wisconsin, North Dakota and Iowa, who promote the professional, economic and personal well-being of nurses through collective action.
Since 1905, MNA members have effectively influenced healthcare policy and practice; advocating for social justice and public health, as well as nursing practice and policies that enable nurses to provide the quality cre patients deserve.
SPECIFIC DUTIES OF ORGANIZING MANAGER AT MNA
The major responsibilities for this person will be to supervise, direct, and evaluate the Labor Organizers and Researcher. This position oversees the planning and effective integration of organizational strategic priorities and their evaluation with the other MNA departments.
Other duties and areas of accountability include:
Working collaboratively with MNA staff to integrate various aspects of the Association into an effective and transparent planning process.
Assisting the DFO and MNA Leadership in policy analysis, organizational planning and alignment, and Board and staff development.
Providing initial and ongoing orientation to new organizers, in addition to overseeing staff progress through the probationary period.
Conducting regular meetings of the organizing staff and report outcomes of meetings to DFO on a regularly scheduled basis.
Consulting with the DFO in drafting the organizing department's annual budget.
Reviewing and advising DFO on all external campaigns via the weekly reports.
Advising management staff on matters concerning organizers or organizing campaigns.
Participating in management meetings and functions.
Qualifications:
BA/BS required; advanced degree preferred.
At least five years of labor union experience is required, with no less than three years of experience working on or leading external organizing drives.
Management/leadership experience, including managing a variety of staff and program activities.
Experience in setting budgets and strategic planning is preferred.
Demonstrated knowledge of the health care industry.
Excellent written and verbal communication skills.
Excellent analytical and problem-solving skills.
Ability to work irregular hours. Fair amount of travel with some overnights to cover Minnesota, Iowa, the Dakotas and Wisconsin.
To Apply:
Email résumé and cover letter to Patricia Johnson, Associate at Margolies, Potterton and Associates, Unionsearch.org at patjohnson@unionsearch.org.
WHEN APPLYING: Be sure to indicate that you saw this information at UNIONJOBS.COM.