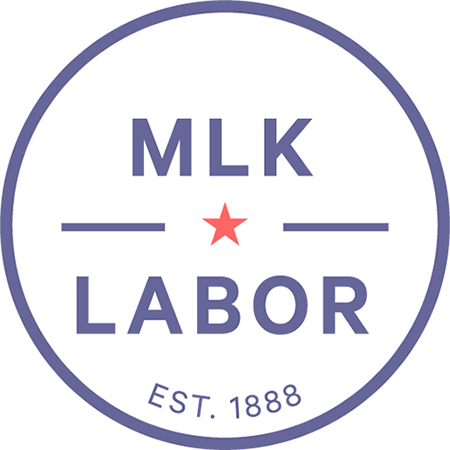 MLK Labor

Digital Organizer
Based in Seattle, WA
MLK Labor is searching for an experienced Digital Organizer to work on the Presidents' Organizing Initiative.
To Apply:
Please email a cover letter, résumé, and 3 references by November 27, 2020, to: annie@mlklabor.org. Please send documents in Microsoft Word, Google.com/docs, or Adobe pdf format, with "POI Seattle Digital Organizer" in the subject line. The position is open until filled.
About the Position:
The Digital Organizer is responsible for reaching out to targeted workers both union and non-union, utilizing social media, app-based communications, virtual communication, and geofencing specific workplaces. They are also responsible for following up with that outreach and supporting the launching and development of the campaigns that are realized by digital outreach. This position is a hybrid organizer and communications position.
Duties may include, but are not limited to:
Developing and maintaining virtual infrastructures to outreach to workers.
Reaching out to targeted non-union workers through virtual outreach.
Developing and implementing organizing campaigns for new bargaining units utilizing virtual outreach.
Developing worksite organizing committees and developing leadership utilizing virtual infrastructures.
Maintaining databases of organizing projects
Supporting new organizing campaigns for local unions
Participate in weekly staff meetings, internal training, mandatory all-staff meetings, strategic planning, etc.
Support "all hands on deck" organizational requests, including mobilization support, voter outreach, phone banking, and other activities.
Maintain personal organization systems.
Qualifications:
Ability to have professional peer relationships with union organizers, researchers, and communicators participating in the project.
Experience working on successful organizing campaigns
Experience organizing in a coalition where participants successfully used strategic collective power to change material conditions such as a change in corporate policy or public policy
Strong ability to develop and maintain virtual organizing capacity
Strong written communication skills
3 years of directly applicable experience
Prior exposure to anti-racist organizing
Prior exposure to digital organizing
Experience working with low-income communities of color and low-wage workers of color.
Compensation and Benefits
Competitive salary starting at $75,000 depending on experience, plus a generous benefits package including employer-paid health insurance and retirement. MLK Labor provides an excellent working environment that encourages teamwork and recognizes high-quality work. This position reports to the POI coordinator and is a great opportunity to learn and grow from a great team of experienced union leaders. This is a union-represented position by OPEIU Local 8.
About MLK Labor
MLK Labor is the central body of labor organizations in King County, Washington. We are affiliated with the National AFL-CIO, the central labor organization in the United States, representing more than 13 million working people. Our mission is to unify all labor organizations in King County to build power and strength for all workers.
MLK Labor is an affirmative action employer, and strongly supports the social goals of affirmative action. We, therefore, make special efforts to recruit individuals from groups that are historically underrepresented in professional environments, or that suffer broader societal discrimination.
WHEN APPLYING: Be sure to indicate that you saw this information at UNIONJOBS.COM.