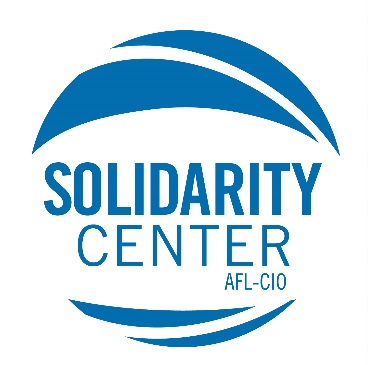 Solidarity Center

Country Program Director
Armenia
Based in Yerevan, Armenia


(All work will be done remotely for the duration of the global health crisis.
Deployment to Armenia will occur once travel and relocation are permitted and confirmed to be safe.)
Anticipated Start Date: Spring 2021
This position is contingent upon continued availability of funding.
Background: In 2018, the UN Special Rapporteur on the Rights to Freedom of Peaceful Assembly and Association noted regarding Armenia "an absence of understanding of the real role of trade unions, even among their own members […] of openly engaging in advocacy for labor rights and solving labor disputes." The Solidarity Center is launching a new program in Armenia to support the right of workers to build independent and democratic trade unions that can effectively defend workers' rights, provide expert input on policy issues, and participate in coalition with civil society. The Solidarity Center will specifically support unions to advocate for stronger protections for worker safety and health.
Summary of Position: The Country Program Director (CPD) for Armenia will be responsible for starting up the Yerevan field office, managing its programs, and representing the Solidarity Center and the AFL-CIO in country. This individual will need to become thoroughly conversant in Solidarity Center programs in the region as well as relevant political, economic, social, and trade union issues in Armenia. The Country Program Director must have sound judgment, a good political sense, and the ability to make clear and prudent decisions, particularly when headquarters cannot be reached for consultation. Whoever holds this position will need a working knowledge of US Government regulations and procedures related to the funding and management of grants.
The Country Program Director will design and implement programs to assist our trade union partners in Armenia. This includes writing funding proposals and concept papers for new initiatives. The CPD will monitor progress toward expected program results as well as compliance with budget targets. This individual will keep headquarters informed of activities on the ground through periodic program reports and regular communication.
The Country Program Director will work closely with AFL-CIO affiliates, the ITUC and its regional organizations, and the international trade secretariats to facilitate their participation in Solidarity Center programs. This individual will provide logistical support for visitors from the Solidarity Center, AFL-CIO, affiliates, GUFs, the donor agency(s), and/or other organizations. The role requires someone with the experience and presence to accurately and effectively represent the policies and programs of the Solidarity Center and the AFL-CIO in public fora and in private meetings with donors, partners, and other parties in country. This position will include extensive travel within the region (10-20% of workdays, health and safety conditions permitting) and may fill in for other Country Program Directors as needed and when feasible.
The Country Program Director will supervise local staff and manage the operations of the Yerevan field office, ensuring compliance with Armenia's labor code and other pertinent laws.
The CPD is also responsible for compliance with Solidarity Center policies and US regulations governing grants. An important part of this role is the development and maintenance of positive relationships with donors and US Embassy personnel, keeping them informed about Solidarity Center's work in Armenia. The Country Program Director must follow the evolution of assistance strategies and ensure that USAID and the Embassy understand both the role of the labor movement in Armenia's development, and the ways in which Solidarity Center programs contribute to their strategic objectives.
Basic Qualifications:
The ability to work independently and without supervision.
Extensive knowledge of international relations and trade union and socio-economic and political developments in the U.S. and abroad.
Previous trade union organizing experience, and/or experience in as a Solidarity Center Program Officer III or Senior Program Officer.
Skills and knowledge of building new union organizations.
Experience building broad coalitions.
Experience addressing occupational safety and health issues.
The ability to manage multiple assignments simultaneously and make substantive decisions that have major effects on costs and completion of projects.
Bachelor's degree in political science, international relations, labor relations or related fields (or equivalent work experience) with ten years additional professional experience.
Good communication and writing skills; ability to write in English at an advanced level required.
Understanding of international labor law questions.
Ability to provide expert advice to unions and government regarding occupational safety and health standards and enforcement.
Computer literacy for word processing and simple spreadsheets.
The ability to work and interact easily with a wide variety of people.
Fluency in the Armenian or Russian language is a plus.
Reports to: Regional Program Director for Europe and Central Asia
Specific Duties:
Oversee the day-to-day operations of the Yerevan field office.
Recruit, select and supervise local staff.
Ensure compliance of the Yerevan office with Solidarity Center and AFL-CIO policies and procedures and with donor and federal government regulations.
Design, develop and implement programs in Armenia that are responsive to the strategies, goals, and objectives of donors, the AFL-CIO, and Solidarity Center partners in Armenia.
Initiate concept papers and program proposals to seek funding for programs.
Prepare well-written reports according to deadlines.
Monitor program performance and results, discussing substantive changes with headquarters.
Monitor program expenditures to meet budget targets.
Coordinate the participation of AFL-CIO affiliates in Solidarity Center programs.
Manage logistics for trips to Armenia by Solidarity Center, AFL-CIO, and affiliate personnel.
Develop solid relationships with US government personnel in country and ensure that they understand the role of labor and Solidarity Center programs in the context of their country strategy.
Share information on country conditions and labor issues with headquarters.
Support program evaluations and audits of field projects.
Travel on a temporary basis to conduct and/or oversee programs in other countries in the region.
Develop contacts with national and international labor, government and non-governmental organizations in the country or region.
The duration of this position, while contingent upon continued grant funding, is anticipated to last from three to six years, with the option to transfer to another post at the end of the assignment.
This position is generously compensated with an annual salary that may be subject to foreign earned income tax exclusion (please consult a tax professional to verify). A robust benefits package includes excellent health and life insurance, a retirement plan/pension, and ample paid time off for holidays, vacation, and sick leave. In addition, as an expatriate position, the Country Program Director is entitled to housing, relocation expenses, annual home leave, and an education allowance for dependents.
Apply HERE!
The Solidarity Center is an equal employment opportunity employer that does not discriminate against any person employed or seeking employment based on race, color, religion, sex, sexual orientation, gender identity, national or ethnic origin, age, marital status, disability, veteran status or any other status protected under applicable law. Women and minority candidates are strongly encouraged to apply.
WHEN APPLYING: Be sure to indicate that you saw this information at UNIONJOBS.COM.