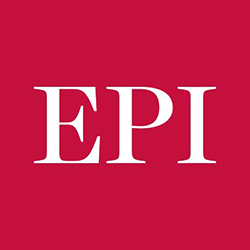 Economic Policy Institute

Senior State Policy Coordinator – Worker Power Project
Economic Analysis and Research Network
(EARN)
Based in Washington, DC



About the Economic Analysis and Research Network (EARN): EARN is a nationwide network of state-based research, policy, and advocacy organizations advancing an inclusive, worker-centered economy through state and local policy change and rigorous research. We are the progressive economic policy and research infrastructure in the states, conducting research, providing data analysis, and developing and advocating policies that confront the fundamental imbalances in the workplace in order to create an economy that works for all of us, not just the wealthy. A core part of the Economic Policy Institute (EPI), EARN is a growing network of 55 research, policy, and advocacy organizations in 43 states around the country and the District of Columbia. The EARN network is coordinated by staff at the Economic Policy Institute and EARN partners.
EPI seeks a dynamic and skilled person to join our EARN team as Senior State Policy Coordinator for our Worker Power Project. This individual will advance EARN's programs and policy campaigns, lead our new Worker Power Initiative, monitor state legislation and track trends in our key policy areas, and provide programmatic support and technical assistance to EARN state partners. The new staffer will help EARN groups and allies identify ways to support worker organizing for a voice on the job and to negotiate with their employer for fair wages, working conditions, and terms of employment. We are seeking someone with 7 to 10 years' experience working with labor unions or worker centers on collective bargaining or other economic justice campaigns at the state level with a deep understanding of the role structural racism plays in economic outcomes.
What You Will Do
Coordinate the Worker Power Project, a new project intended to help build the capacity of EARN groups and their grassroots partners to win state and local policy reforms that support workers' ability to form unions and collectively bargain.

Work closely with labor partners and EARN groups to design and implement this new two-year initiative.
Design and administer the grant process for funding projects and campaigns of state and local Worker Power Project partners.
Lead the planning for Worker Power Project convenings, webinars, and strategy sessions to facilitate cross-state sharing of best practices and policy, research, and advocacy strategies.

Build and maintain strong relationships with EARN partners on worker power issues:

Coordinate cross-state work groups on key worker power policy and research issues.
Develop, coordinate, and facilitate issue webinars for EARN partners.
Identify new issue areas for collaboration.
Disseminate the policy, research, and advocacy work of EARN partners and EPI.
Respond to technical assistance requests, in coordination with EARN/EPI staff.

Coordinate with state and national allies on worker power priority issues and campaigns.
Monitor relevant state and local policy issues and emerging trends by tracking state and local policy proposals.

Analyze state and local legislation.
Prepare fact sheets, memoranda, and other policy and research products.
Share trends and best practices with EARN partners and allies.
Coordinate with communications staff to craft compelling messaging on emerging issues

Represent EARN/EPI in outreach activities to EARN partners, labor unions, policymakers, and state and national partner organizations, including grassroots networks.
Prepare issue resource packets, written reports, issue briefs, fact sheets, op-eds, blog posts, and other documents accessible to multiple audiences.
Assist in planning and staffing EARNCon, EARN's annual conference for state partners and allies, as well as other network events.
Other duties as assigned.
Who You Are
Ideally, you have 7–10 years' experience working in or with a labor union or worker center. We do not expect that every candidate will have this full range of experience, but the following qualities and experience are highly desirable:
Experience with and demonstrated commitment to economic justice, worker power and collective bargaining, and racial and gender equity
A campaigner's or organizer's mindset and a love of learning
Experience with state-level policy research and advocacy, and an understanding of state policy and legislative process; ability to read and analyze policy language
Deep familiarity with state and local policy approaches designed to support worker organizing and power
Strong demonstrated project management skills, the ability to manage several projects at once, and the flexibility to adapt to a changing political landscape
Familiarity with a diverse set of economic policy issues
Demonstrated coalition-building skills
Self-motivated and able to work independently, but also able to collaborate and work as part of a team and with diverse partners
Excellent organizational skills, with the demonstrated ability to drive projects to completion
Ability to represent the organization at meetings and events
Excellent written and oral communication skills and ability to create materials for a wide range of audiences
Experience working in a labor union, advocacy organization, or public agency focused on economic justice, workers' rights, or labor law and policy
Experience using the Microsoft Office 365 Suite. Knowledge of WordPress a bonus.
Willingness to handle occasional long hours and travel
Salary/Benefits:
This is currently a 2-year position, with the possibility of extension contingent on available funding. If the position is extended, it may be in another area of our work, depending on organizational need and funding.
EPI is a unionized workplace. This position is in the bargaining unit and reports to the EARN Director.
The salary for this position ranges from $80,000 to $93,000, dependent on experience, plus benefits.
EPI offers an excellent benefits package, including generous paid time off, as well as retirement contributions, medical, vision, dental, short- and long-term disability, and life insurance.
EPI is an equal opportunity, fair chance, affirmative action employer, committed to building a diverse and inclusive workforce. All qualified applicants will be considered for employment without regard to race, color, creed, national origin, sex, age, disability, marital status, sexual orientation, military status, prior history of arrest or conviction, citizenship status, caregiver status, or other categories protected by law.
To apply:
Candidates should send a cover letter highlighting their relevant experience and explaining their interest in working at EPI, résumé, and writing sample to earn-jobs@epi.org with "WPP Senior State Policy Coordinator" in the subject line. Applications will be accepted on a rolling basis until the position is filled. Applications without a cover letter will not be considered. Deadline to apply is Friday November 30, 2020
WHEN APPLYING: Be sure to indicate that you saw this information at UNIONJOBS.COM.