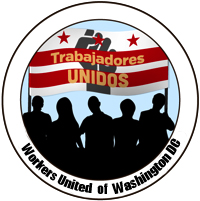 TUWDC
Trabajadores Unidos de Washington DC
(United Workers of Washington DC)

General Manager
Based in Washington, DC
MISSION
Founded in 2014, TUWDC's primary mission is to advance and defend the rights and interests of Washington DC immigrant and low-income workers by empowering them and working together to improve working conditions of day laborers. As an organizing hub for DC day laborers, TUWDC works to build leaders with a collective passion for civic engagement. TUWDC develops campaigns in partnership and coalition with a goal of protecting the rights of workers to seek work in public places. TUWDC works to combat wage theft, educate about unsafe working conditions, provide immigration legal services, and address other violations of workers' rights.
JOB DESCRIPTION
TUWDC is seeking an energetic, organized, and passionate individual for General Manager to administer everyday functions for the organization. The General Manager will coordinate with the Executive Director to achieve all goals and help implement various TUWDC projects. The General Manager will be responsible for daily operations, including maintaining databases and accurate records management, preparing budgets and proposals for funders. The General Manager will be part of a team which furthers the organization's grassroots strategy, educational and advocacy work, outreach activities, and civic engagement. The General Manager serves in a full-time position, requiring a flexible work schedule, including some evenings and weekends. The General Manager must be bi-lingual in Spanish and English.
DUTIES AND RESPONSIBILITIES
Administer everyday functions for the organization
Write proposals, respond to funder's requests for reports and data outlining the progress of grant and contract cycles
Ensure compliance with all deliverables within required timeframe
Prepare budgets, prepare financial reports, and monitor spending
Establish and grow relationships with day laborers, low-wage workers and immigrants
Maintain effective financial systems to track and evaluate programs and organizational expenses
Prepare strategies to enhance and grow digital and social media
Supervise staff and volunteers
Qualifications
A culturally competent leader who is eager to learn, be a good listener and capable of working well with people from different backgrounds and identities
Experience with database and records management
Strong commitment to TUWDC's mission
Experience in community organizing, issue organizing or union organizing
Experience organizing and working with allies for collective action for social change, justice, or economic security and/or facilitation leading campaigns and workshops
Knowledge of Washington DC and the needs of its low-wage population
Skills working with immigrant populations, especially the Latino community
Ability to plan, prioritize, coordinate and manage own work
Ability to make decisions and solve problems independently, effectively, and creatively
Ability to simultaneously juggle multiple projects while also consistently meeting goals
Demonstrated flexibility and openness in responding to changing work priorities
Ability to work independently in a small office environment and in a team environment
Willingness to work a flexible schedule, including evenings and weekends, to meet the needs of the organization
Requirements
Education: Bachelor's degree in Social Services or related field. Preferred equivalent work experience will be considered
Two years of experience in a related field or with non-profit organizations
Native, bilingual, or full professional proficiency in Spanish and English
Record of juggling multiple tasks with varying deadlines
Be a strong self-starter and highly organized
Experience with financial management or nonprofit budgeting and planning
Strong communication skills in writing, speaking and listening effectively
Demonstrated commitment to and passion for immigrant and Latino civil rights and/or social issues
Proficient knowledge of software programs including Microsoft Office, Word, Excel, and familiarity with social media
The position is based in Washington, D.C.
Salary: The salary is commensurate with experience
To Apply
Please e-mail your résumé, cover letter and salary expectations to arturo.tuwdc@gmail.com, with the subject line: General Manager. TUWDC expects candidates to demonstrate how they meet the listed job requirements in their cover letters. No phone calls, please.
TUWDC is an Equal Opportunity Employer. We are committed to diversity among our staff and it is our policy to recruit, hire, train, promote and administer any personnel actions without regard to sex, race, age, color, creed, national origin, religion, economic status, sexual orientation, veteran status, gender identity or expression, ethnic identity or physical disability or any other legally protected basis. TUWDC does not tolerate any unlawful discrimination and any such conduct is strictly prohibited.
WHEN APPLYING: Be sure to indicate that you saw this information at UNIONJOBS.COM.