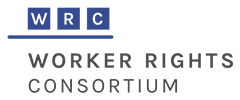 Worker Rights Consortium

Coordinator
Project to Combat Forced Labor
Based in Washington, DC
Description
The Worker Rights Consortium (WRC) is seeking to hire for the role of Coordinator, Project to Combat Forced Labor, for a period of 12 months. The WRC is a nonprofit labor rights organization dedicated to ending sweatshop conditions and protecting the rights of workers in factories around the world that produce clothing and other consumer products. We conduct independent, in-depth investigations; issue public reports on factories producing for major brands; and help end labor abuses and protect workplace rights. We also advocate for systemic reforms in global manufacturing supply chains to address the economic dynamics underlying abusive conditions and open the door to broader positive change.
Over the past two years, the WRC has documented the use of forced labor in the Xinjiang Uyghur Autonomous Region of China (XUAR) in the supply chains of major apparel firms and pressed these firms to address this serious human rights violation. This forced labor is perpetrated by the Chinese government as part of its systemic repression of Uyghur and other Turkic or Muslim-majority peoples. In exposing international apparel firms' complicity in forced labor in the XUAR, the WRC is working closely with investigative journalists, leading human rights organizations, and diasporic Uyghur organizations. The WRC and other organizations are pressing for industry-wide change in their approach to preventing forced labor in the region.
As part of our Covid-19 precautions, all WRC employees are currently working remotely and not engaging in travel. When the situation improves, the position will require some travel. Candidates who will be able to work from our office in Washington, DC, at the point that we return to our office, are preferred.
This is currently a 12-month position, with the possibility of extension contingent on available funding.
The Coordinator will advance the WRC's work to end state-sponsored forced labor in the XUAR. The Coordinator will, under the supervision of the Assistant Research Director:
Play a leading role in maintaining and building relationships with partner organizations working on the issue of forced labor in the XUAR;
Lead and support the development of a global strategy to end corporate complicity in forced labor in the XUAR; and
Coordinate with our Assistant Research Director to develop research agenda in coordination with strategic objectives.
Qualifications
In order to be qualified for this position, candidates must have:
At least 3–5 years of experience working on workers' rights, human rights, or other social justice issues;
A commitment to workers' rights;
Experience working effectively in coalition and successfully navigating partnerships with a broad array of organizations;
Experience managing multiple projects and ability to coordinate with partners on campaign work; and
Strong writing and communication skills, including ability to distill complex topics into accessible and compelling formats.
The following are not required but are desirable:
Proficiency in Mandarin;
Experience working to address forced labor; and
Understanding of local and global legal instruments relating to forced labor.
Compensation
The starting salary for this position is $70,000 per year but may be adjusted commensurate with experience. The WRC provides an excellent benefits package, including 100% employer-paid family health insurance including dental and vision care, with an additional flexible spending plan; 401(k) retirement plan with employer contribution; and five weeks paid vacation. This position is covered by a union contract.
Equal Opportunity
The WRC is an equal opportunity employer and all qualified applicants will receive consideration for employment without regard to race, color, national origin, ancestry, sex, gender identity, sexual orientation, marital status, religious creed, medical/physical/ mental condition, veteran status, age, or any other characteristic protected by law. People of color, women, veterans, people who identify as LGBTQ+, and people who are differently abled are strongly encouraged to apply.
To Apply
Send the following documents, by electronic mail, to recruitment@workersrights.org (put "Coordinator" in the subject line):
A cover letter, explaining your interest in the position and your relevant experience;
A résumé or CV;
Two writing samples; and
Three references. (If you wish to be notified prior to any references being contacted, please so indicate.)
Applications that do not include all of the required materials will not be reviewed.
Note: This position will be open until filled; however, applicants are strongly encouraged to submit their materials no later than August 31, 2020.
WHEN APPLYING: Be sure to indicate that you saw this information at UNIONJOBS.COM.