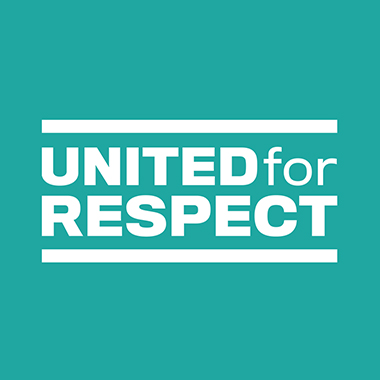 United for Respect

Organizer
Wall Street Accountability
Remote
ABOUT UNITED FOR RESPECT
United For Respect (UFR) is a national organization building an industry voice of working people working for the country's largest retail corporations. Through scaled leadership development and base-building, UFR's growing network is challenging major corporations and policymakers to provide family‐sustaining jobs for all working people. We leverage technology — social media and our digital platform, WorkIt — and bring the retail workforce into a shared community of support and advocacy. We are building the 21st Century labor movement, and we need Organizers who share our vision for a liberated society and are able to draw connections between local campaigns and national issues.
POSITION OVERVIEW
UFR is addressing and amplifying the destructive impacts of unchecked Wall Street greed, particularly the outsized role that private equity plays in our economy and our communities. UFR is seeking an experienced Organizer to grow the leadership of working people working in retail companies that are owned by private equity in order to win game-changing campaigns for family-sustaining jobs and protections as part of our growing, high-impact, Wall Street Accountability Campaigns. Through online-to-offline organizing, the Organizer will build strong relationships with retail workers and help them develop leadership skills and activate a broad base on integrated campaigns that move policymakers and low-wage employers to create good jobs and protections. Our campaigns focus on raising workplace standards to win family sustaining jobs, a fair workweek, family leave, severance, earned sick time, hazard pay, and equitable workplaces free of sexual harassment and racial discrimination.
The Organizer will be responsible for:
Helping to build a broad base and strong leadership of people working across major retailers and in key states to support each other to enforce their rights and advance policy and industry change campaigns through UFR's online-to-offline organizing model that includes online social media communities, peer to peer texting, and field outreach.
Developing and building leadership committees to drive public and corporate policy campaigns through an inclusive process that develops their organizing and advocacy skills, generates bold actions, moves policy makers and educates the public.
Working with the staff and partners to organize actions, press events, and prepare testimony for public hearings.
Developing the leadership of working people to share their stories with each other and publicly, with the media and online.
Participate in strategy development and planning to grow the organizing program and advance campaigns.
Building meaningful partnerships with community and policy allies to support campaigns, our members, and core organizing work.
Requirements
Minimum 2-3 years organizing campaign experience, ideally with organizing workers and using digital strategies.
Strong writing, research, and communication skills.
Strong listening, persuasion, and facilitation skills.
Ability to relate to and work with diverse groups of people as well as an understanding of the daily challenges faced by low-income communities of color.
Ability to work independently, navigate obstacles, discern priorities, meet competing deadlines and handle multiple projects.
Strong database management skills that inform analysis of the base and strategy.
Familiarity with digital strategies and online to offline organizing.
Ability to work varied hours including nights, weekends and holidays.
Must have a car, be able to drive and maintain a valid driver's license, as travel is needed (as permitted by COVID-19 protocols) on a regular basis.
Ability to speak Spanish is a plus.
Location: Anywhere in the United States (remote)

Additional information
Salary Range: $55,000 to $65,000 annually depending on experience and location.
Competitive benefits package provided for full-time employees and eligible dependents, including health, dental, vision, and prescription coverage and 401k. Ability to travel is a must.
United for Respect is an Equal Employment Opportunity employer and actively recruits people of color, women, individuals with disabilities, and members of the LGBTQ community. United for Respect provides equal employment opportunities to all employees and applicants for employment and prohibits discrimination and harassment of any type without regard to race, color, religion, age, sex, national origin, disability status, genetics, protected veteran status, sexual orientation, gender identity or expression, or any other characteristic protected by federal, state or local laws. This policy applies to all terms and conditions of employment, including recruiting, hiring, placement, promotion, termination, layoff, recall, transfer, leaves of absence, compensation and training.

To Apply:
If you are interested in applying for this position, please apply HERE.
WHEN APPLYING: Be sure to indicate that you saw this information at UNIONJOBS.COM.