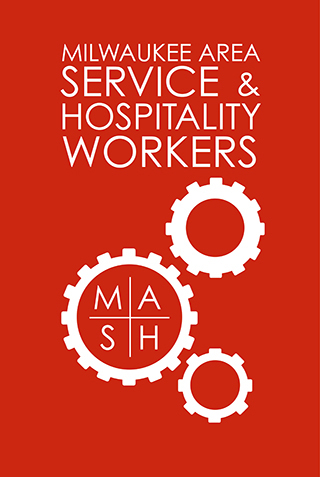 MASH
Milwaukee Area Service & Hospitality Workers Organization

Digital Mobilization Director
Service, Hospitality, Healthcare, and Other Workers
Based in Milwaukee, WI
We are seeking passionate people interested in building a multi-sector, multi-racial workers movement with the Milwaukee Area Service & Hospitality Workers Organization (MASH).
MASH is an organization of service, hospitality and other low-wage workers building collective power to raise standards in our industries. MASH combines the functions of labor union, hiring hall, and worker center. We launched to implement a landmark community benefits agreement for wage floors, union rights, and a hiring hall for service and hospitality jobs in the new Milwaukee arena district. Now we are working to win sectoral standards through a multi-employer, industry-wide initiative and comprehensive campaign.
MASH is hiring a strategic and experienced Digital Mobilization Director to be part of a team moving an ambitious, aggressive program to build power amongst workers and raise standards. The digital mobilization director will play an integral leadership role across the whole of the organization's work.
Key Responsibilities:
Develop and drive, along with union leadership and organizing staff, the digital mobilization strategy and plans for the organization's overall work as well as within each campaign, in alignment with our priorities, analyses, values and brand
Work collaboratively with union leaders, staff and members around key issues and campaigns to translate a vision of our union's work into digital mobilization projects; inject into union's work and campaigns a sensibility of enhanced capacity through digital mobilization
Develop, adapt, and implement weekly and monthly content calendars for email, SMS, and social media platforms
Produce high-quality, creative, and brand-consistent content for all platforms of the organization's work (which could include some graphic design, video editing, and similar work); this will include defining the voice(s) and brand of the organization in collaboration with union leadership and senior staff
Manage organizational work on digital organizing and advocacy platforms like Phone2Action
Collaborate with external consultants to ensure alignment between paid and earned digital media content and campaigns
Define digital organizing and mobilizing work in our current contexts and the way the organization's work must adapt to circumstances, work creatively to expanding the meaning and possibilities for digital organizing and mobilizing for the future
Ideally, develop relationships and collaboration with other similar staff with other organizations as well as leaders in the field
Qualifications:
Two to three years of experience with email, P2P, SMS, and short code text platforms, ideally planing, executing and managing mobilization strategies with these tools; two to three years of experience managing social media platforms and developing content
Strong verbal and written communication skills with demonstrated success in moving strategic messages, public narrative, and campaign actions through a variety of digital platforms.
Experience with a detail-oriented commitment to consistently developing high-quality content for social media and digital platforms that moves our audiences to action and continues building our audiences, including creating optimized content for given platforms, audio/visual editing, photography/videography, compelling written voice, and the like
Experience with managing social media and digital platforms, including an understanding of algorithms that drive penetration (as well as a willingness to learn and continuously keep abreast of algorithm changes in order to optimize content spread)
Ability to distill complex information, ideas, and analyses to create resonant and relevant messages to a variety of targeted audiences
Strategic thinking that contributes to organizational campaigning, particularly in relationship with other components of the union's whole
Commitment to economic, racial and social justice; understanding of power; knowledge of and ability to learn political and economic landscape in which the union operates
Ability to take initiative; manage one's own work; manage up; balance and handle varying workloads and priorities, driving toward multiple outcomes and deadlines.
Ability and willingness to work long and irregular hours, including nights and weekends.
Ability to work independently as well as with a team.
Ability to be coached and trained (actively inviting feedback and input), to be held accountable, and to struggle through difficulty
Resourcefulness, persistence, loyalty and integrity and strong skills in planning, time-management and problem-solving are a must
Demonstrated ability to work with people from diverse cultures and backgrounds.
Possession of a valid U.S. driver's license, proof of auto insurance, and an automobile for business use.
Background in unions or the labor movement preferable, but not required
Compensation:
Salary range starting at $70,000/annual but commensurate with experience; benefits include fully employer-paid health, dental and vision insurance; cell phone allowance; generous paid time off; and, 6% salary employer contribution to 401(k) account beginning after 6 months of employment . This is a full-time, salaried, overtime-exempt position. MASH provides a numerous opportunities to advance and take on interesting, meaningful work.
Application Requirements:
A résumé should be sent to denise.lowe@mashworkers.org with the subject line "Digital Mobilization Director Application"; no cover letter is required but the email should briefly mention why you are interested in organizing with MASH to build the workers movement.
People of color, women, LGBTQ people, and working class and poor people strongly encouraged to apply.
WHEN APPLYING: Be sure to indicate that you saw this information at UNIONJOBS.COM.