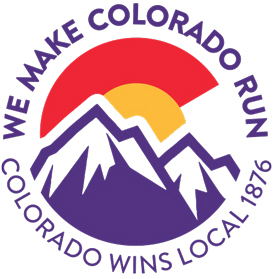 Colorado WINS

Office Manager
Based in Pueblo, CO
Job Title: Office Manager
Location: Pueblo, CO
Be part of making organizing history in Colorado. Colorado joined the ranks of 36 states that have collective bargaining rights for public employees.
PURPOSE:
This position is responsible for directing and coordinating the administrative work for Colorado WINS. Manage large quantities of materials, data, and records and serves as lead on special projects, conferences, workshops or other specialized programs.
PRIMARY RESPONSIBILITIES:
Receives correspondence for executive director; routes mail or responses to appropriate party and follows-up for completed actions.
Manages member intake
Maintains director's calendar; screens visitors and callers and answers inquiries involving established procedures or routine matters.
Manages the paying of bills and making disbursements. Processes deposits.
Works with Executive Director to manage an annual audit and related governmental filings on a timely basis.
Reconciles deposits with membership lists and flags any problems around non-receipt of dues, problems with data for reconciling deposits, missing information related to dues collection.
Maintains software programs relevant to local union operations; integrates data; provides data for programs and produces reports.
Processes payroll and accounting services including working with a vendor on these if needed.
Controls administrative functions within the local including budget, leave reports, orders and maintains supplies and files.
Trains other support staff and distributes administrative support activities when applicable.
Performs other duties as required to support Colorado WINS.
Minimum Qualifications:
Bachelor's degree and five (5) years of progressive administrative experience.
Equivalency: Graduation from high school or equivalent and seven (7) years of progressive administrative experience.
Thorough knowledge of effective office procedures and practices.
Knowledge of unions or other advocacy groups.
Ability to analyze problems, collect data and make sound, logical conclusions.
Ability to plan, organize and coordinate work and supervise others.
Ability to communicate effectively, both orally and in writing.
Ability to develop proficiency in software package(s) required by the locals.
Ability to type 65 wpm.
Skilled use of Microsoft Office: Word Intermediate, Excel Intermediate, and PowerPoint Intermediate; and QuickBooks for Nonprofits
SALARY AND BENEFITS
Salary range is between $54K - 64K per year, including a generous benefit package.
To Apply
To apply for this position, email your information to: info@cowins.org.
Colorado WINS is an equal opportunity employer.
WHEN APPLYING: Be sure to indicate that you saw this information at UNIONJOBS.COM.