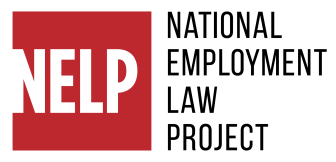 NELP
National Employment Law Project

Post-Graduate Legal Fellow Sponsorship for Immigrant and Workers Rights
Based in Washington, D.C.
The National Employment Law Project (NELP) seeks a dynamic law student or judicial clerk to sponsor for a fall 2020 application to Skadden, Equal Justice Works, or similar funded post-graduate legal fellowship, which would begin in fall 2021. The legal fellow would be based in NELP's office in Washington, D.C. This position offers an opportunity to join a committed and high-impact team at NELP.
Who We Are
NELP is a national nonprofit advocacy organization with offices in New York, Washington D.C., and Berkeley, with the core goals of building worker power, dismantling structural racism, and addressing economic inequality. We promote federal, state, and local policies to create good jobs, strengthen workers' upward mobility, enforce worker rights, and improve benefits and services for unemployed workers. In collaboration with national and grassroots partners, NELP advances its work through research, advocacy, litigation support, and technical assistance designed to raise wages, end wage theft and workplace violations, strengthen unemployment insurance, ensure employer accountability for workers in contract employment, encourage fair chance employment practices, and promote a comprehensive policy framework to build a good jobs economy. For more information, see: www.nelp.org.
What You Will Do
NELP will work with the aspiring legal fellow to develop a project that supports NELP's work at the intersection of worker rights and immigrant rights within the context of the consequences of the COVID-19 crisis. NELP would consider a project that could address the following: blunting the impact of retaliation on worker power and labor standards enforcement; responding to problematic worksite immigration enforcement; establishing hardship funds for immigrant workers; and responding to the health and safety needs of immigrant workers.
The fellow's project may employ a variety of strategies, including:
Providing legal, policy, and strategic assistance for campaigns, including drafting legislation, legal analyses, and policy briefs;
Participating in strategic litigation related to wage and hour, other labor standards issues, or federal administrative actions;
Drafting reports, op-eds, and educational materials and engaging in strategic communications;
Coordinating networks of advocates to develop and advance policy campaigns.
Who You Are
You have (or will have, before the start of the fellowship) a J.D. degree.
You have been admitted to the practice of law in the District of Columbia or are in the process of being admitted.
You have a demonstrated commitment to racial and social justice, immigrant rights, and/or worker rights.
You are interested in expanding your analysis and knowledge about structural racism and are committed to centering racial equity in your work.
You have a demonstrated track record of developing and maintaining positive, productive work relationships across a diverse group of stakeholders.
You are skilled at conducting high-quality and thorough legal research and analysis.
You are detail-oriented, organized, and have excellent follow-through.
You are a skilled and effective writer and communicator, with a demonstrated ability to convey complex legal concepts in compelling and digestible work products such as memos, reports, op-eds, and/or issue briefs.
You are committed to contributing to a positive working environment by engaging collaboratively and respectfully.
Start Date, Location, Compensation and Benefits: This position will be based in Washington D.C. The start date will be based on the sponsored legal fellowship, which will be fall 2021. This position is in NELP's bargaining unit, represented by National Organization of Legal Service Workers, UAW Local 2320. Classification and compensation for NELP bargaining unit positions is commensurate with relevant experience and education and based on NELP's collectively bargained scales. NELP will supplement the fellowship award. Based on our union scale, the annual salary for an attorney with no relevant experience is $74,300. Compensation also includes an excellent comprehensive benefits package, including full coverage of family health insurance, a medical reimbursement plan, generous vacation and sick leave, contribution from employer to a retirement plan, and student loan repayment assistance for qualifying participants.
To Apply: Through our online database, submit a cover letter explaining your interest and project ideas, résumé, writing sample and three references to: http://bit.ly/WorkWithNelp, choosing the "Legal Fellowship" option under position. If you have questions regarding this announcement, please forward those to: nelp@nelp.org, noting "Legal Fellowship Application" in the subject line. No phone calls or other email inquiries please. We will consider applications on a rolling basis. Applications due by August 10, 2020.
NELP is a 501(c)(3) non-profit organization and an equal opportunity, fair chance, affirmative action employer, committed to building a diverse and inclusive workforce. All qualified applicants will be considered for employment without regard to race, color, creed, national origin, sex, age, disability, marital status, sexual orientation, military status, prior record of arrest or conviction, citizenship status, current employment status, or caregiver status.
WHEN APPLYING: Be sure to indicate that you saw this information at UNIONJOBS.COM.