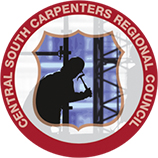 CSCRC
Central South Carpenters Regional Council



Council Representative
To based out of Arkansas, Louisiana, Mississippi, Oklahoma, or Texas
The Central South Carpenters Regional Council (CSCRC) represents 7,500 members in 23 local unions (12 construction/11 industrial) within Arkansas, Louisiana, Mississippi, Oklahoma, and Texas who are committed to the United Brotherhood of Carpenters (UBC) goal of reaching 70% market share through organizing and other strategies. We negotiate and enforce complex agreements that ensure good working conditions, fair wages, and secure health care and retirement benefits.
The Council is seeking representatives who are passionate about social justice and building power for workers! The ideal candidate will be a tireless advocate for the rank-and-file, and excel at both strategy, and tactics of influencing others towards collective action. If this describes you, please apply immediately!!
Job Description:
A Council Representative provides the full range of representation to members in their assigned areas. This includes, but not limited to building local union capacity; empowering current membership through internal/external organizing; and planning, managing, and executing representational programs within locals specifically utilizing business development principles and executing Council goals. CSCRC representatives reports to the Chief of Staff. The Council Representative works individually or paired, but keeps supervisor regularly apprised of developments during activities. We are looking for representatives to service members in Arkansas, Louisiana, and Mississippi.
Job Duties:
In partnership with Council leadership; conducts research, gathers information, and devises effective strategies to handle all aspects of servicing including labor/management relations; contract negotiations (including preparation and presentation); arbitrations and grievances, and all other duties associated with servicing the Locals.
Actively promote the union's vision for building strength and achieving growth by identifying, recruiting, and training/developing new members & empowering existing membership/jobsite leaders to build local union capacity.
Assist Council Directors in internal/external organizing campaigns
Mobilize and motivate members to political action, community alliance building, and other union activities by maintaining regular communication with members/leaders through local union meetings, job-site visits, one-on-one meetings, and house calls to monitor worker attitudes and guide their activity on behalf of the union.
Assist area officers in the administration of local unions.
Other related duties as required.
Qualifications:
Three years of experience representing members in Industrial shops preferred. Equivalent combination of education and experience with other non-profits which provides the knowledge, skills, and abilities to perform the primary responsibilities will be considered.
Experience assisting members with contract enforcement and grievances and assisting local unions with year-end reporting requirements.
Completion of 3rd Year Apprentice Program and/or UBC Journeyman Program at the UBC International Training Center in Las Vegas, NV preferred.
Must be willing to attend and successfully complete a 3-Day Evaluation at the UBC International Training Center in Las Vegas, NV.
Interest in labor relations and servicing union members at a professional level.
Business development skills to grow new, and maintain existing relationships, with employers and end-users are desirable.
Ability to establish rapport with and organize members in widely diversified ethnic, social, and economic groups.
Impeccable diplomatic tact and skill in verbal/written communications, including the ability to listen effectively and keep detailed records.
Extensive time management ability in a high-stress environment working irregular hours with minimal supervision, individually or as part of a team while maintaining effective work relationships to accomplish union's objectives (occasional overnight travel required).
Must be proficient using Microsoft Office 365 applications and Internet on a laptop/smartphone to research/develop persuasive written and graphic documents for negotiations, arbitrations, strategy development, and other servicing activities.
Experience using membership databases is preferred.
Bilingual skills are desirable.
Submit Application:
Please send Cover Letter, Résumé, and 3 work references to Mu Son Chi at: mchi@cscouncil.net. Please include "Industrial Council Representative" in the subject line of your email.
The Central South Carpenters Regional Council is an equal opportunity employer and does not discriminate against otherwise qualified applicants on the basis of race, color, creed, religion, ancestry, age, sex, marital status, national origin, disability or handicap, or veteran status. All applicants must be able to furnish proof of authorization to work in the United States.
WHEN APPLYING: Be sure to indicate that you saw this information at UNIONJOBS.COM.