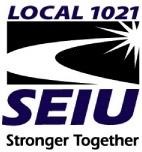 SEIU Local 1021

Organizing Coordinator
Based in Northern California
SEIU Local 1021 was founded in 2007 when ten local unions came together in Northern California to form one larger, more powerful union. Together our members are building a true 21st century union fighting to empower our members and improve our society. We are 54,000 strong - organizing and representing public service workers in cities, counties, courts, schools, private non-profits, special districts, public health care, nursing and higher education. We are looking for energetic, hard-working staff who are committed to real change, who believe in the value of work and the value of public services and who want to be part of the team that wins for workers, their families and their communities.
LOCATION: Northern California
RESPONSIBILITIS: Under the direction of the Organizing Director, the Organizing Coordinator is responsible for assisting in the development and implementation of the Local's organizing plan and the supervision of assigned staff and/or organizers, with the goal of providing strategic guidance to the union in its various campaigns, which includes the development of organizing activities. In the capacity of supervising staff, responsible for day-to-day supervision, coordinating staff development of all organizers, monitoring, training, and has the authority to recommend and implement discipline. Make recommendations on assignments based on staff development needs. This is not a 9 to 5 job - long and varied hours, with early morning, evening, weekend work and travel, including overnight stays.
EXAMPLE OF DUTIES:
Develop and implement all aspects of work plans for assigned organizing campaigns;
Develop and implement staff development plans;
Supervises assigned staff;
May serve as primary spokesperson in organizing campaigns;
Conducts training(s) for staff and leadership;
Implements legal, community and political strategies;
Oversees the development of a coordinated communications during organizing campaigns;
Other related work as assigned.
SKILLS, APTITUTE AND COMMITEMENT:
Strong labor organizing experience.
A commitment to building long-term power for working people.
Interview skills and experience.
Willingness to work long hours and sometimes irregular hours.
Understanding of government policy.
Ability to address public boards and commissions to advocate for the union's issues.
Ability to explain information to a variety of audiences, in spoken and written form.
Ability to think strategically as well as analytically.
Familiarity of databases and work-processing programs.
This position requires a strong commitment to the labor movement, social justice issues and working within a diverse community of others committed to the same principles of the Union.
EXPERIENCE: Strong knowledge and experience in union internal and external organizing in the public sector, which includes health care, schools and local government; and private sector/non-profit industries.
Knowledge of organizing campaign strategies and their application.
Five (5) years of experience developing and leading union organizing campaigns.
Experience in the legal, political, economic and industry forces that impact organizing campaigns.
Knowledge of labor laws relating to private sector and non-profit industries.
Knowledge and experience in the supervision of workers.
Experience in organizing, development and mobilization of workers.
Experience in lobbying elected and appointed officials.
Experience working with community organizations.
Ability to demonstrate self-motivation, initiative, critical thinking skills, responsibility and productivity.
Skills in the motivation and development of others.
Skills in written and verbal communications.
REQUIREMENTS: Must possess a valid California driver's license; must pass a DMV check and have a good driving record; must have auto insurance that covers business driving (minimum of $100,000 per person/$300,000 per incident bodily injury liability/$50,000 property coverage); and must possess an automobile for business use.
Ability to speak another language spoken by large groups of workers is highly valued.
SALARY AND BENEFITS: The salary range starts at $116,701 based on qualifications and experience. SEIU Local 1021 offers a competitive and comprehensive benefits package.
To Apply: Visit our online Career Center found HERE to apply. You must include a detailed résumé, cover letter indicating the position you are applying for, and the names, addresses, and phone numbers of three (3) references. This position is open until filled; however, the posting/acceptance of applications may close at any time. No phone calls please.
This position is open until filled; however, the posting/acceptance of applications may close at any time.
AFFIRMATIVE ACTION EMPLOYER
Local 1021 is an affirmative action employer and encourage applications from all qualified candidates regardless of race, ethnicity, age, sex, sexual orientation, marital status, religion, or disability. Local 1021 works to ensure fair treatment of applicants and employees and actively enforces policies against discrimination and sexual harassment.
WHEN APPLYING: Be sure to indicate that you saw this information at UNIONJOBS.COM.