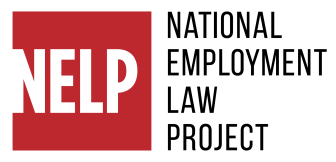 NELP
National Employment Law Project

California Program Assistant
Part-Time, Time-Limited Employee Position
Based in Berkeley, CA
The National Employment Law Project (NELP) seeks a dynamic Program Assistant to join our Strategic Partnerships and Work Equity teams. This is a part-time, 20-hour per week, 2-year time-limited employee position based in our Berkeley, CA office.
Who We Are
NELP is a national non-profit with offices in New York, Washington, D.C., and Berkeley, CA, promoting federal, state, and local policies designed to ensure that all workers—particularly people of color, women, and people who are unemployed—can achieve and sustain economic opportunity and security through their labor. These include policies to raise wages, build worker power, enforce worker rights, and improve benefits and services for unemployed workers. NELP believes that we will achieve our mission only when we have dismantled structural racism, addressed income inequality, and built worker power. In collaboration with national and grassroots partners, NELP advances its work through research, advocacy, litigation support, and technical assistance designed to raise wages, end wage theft and workplace violations, ensure safe and healthy workplaces, strengthen unemployment insurance and workers' compensation, secure employer accountability, expand employment of people with arrest and conviction records, and promote a comprehensive policy framework to build a good jobs economy. For more information, see www.nelp.org.
As advocates for workers' rights, including the right to organize and bargain over working conditions, non-management staff at NELP are members of Local 2320, UAW. This position would be in the staff union.
What You Will Do
You will provide administrative support, working with teams on the following campaigns and projects to achieve NELP's organizational goals of reducing income inequality, tackling structural racism, and building worker power: 1) The California Strategic Enforcement Partnership, which bolsters anti-wage theft enforcement efforts in California by fostering collaboration between public agencies and worker organizations on strategic cases that collect unpaid wages, engage and empower workers, and promote change across six low-wage industries. 2) Two national projects in NELP's Work Equity Portfolio that are both focused on partnering with state organizations on a racial equity framework and toolkit to increase employment and access to quality jobs for people with criminal records, especially people of color.
The California Program Assistant will be responsible for the following:
Logistics and Program Support
Manage the preparation, production, and follow-up of multi-stakeholder meetings and convenings.
Create systems to track and develop project-based best practices and toolkits to ensure replicability of NELP's work to strengthen hiring of people with previous criminal records.
Manage aspects of logistics for successful meetings and events including transportation, venue and on-site coordination, vendor management, and participant follow-up.
Prepare and disseminate agendas and written materials, in collaboration with the team.
Support the follow-up from meetings, including additional funder and expense reporting.
Purchase supplies and coordinate preparation of meeting materials.
Support the administrative duties of grant reporting, invoicing, and regrants.
Operations and Administration
Manage vendors and systems per NELP's processes and protocols, including those related to finance, calendaring, and tech equipment.
Organizational Support
Supporting NELP's racial equity work and campaigns with key constituencies, allied organizations, and policymakers.
Supporting a workplace culture where all team members grow and develop professionally.
Actively contributing to NELP's work in becoming an anti-racist organization that reflects and embodies internally the values of social justice, diversity, and inclusion.
Who You Are
You have at least 3 years experience in organizational operations work, including establishing and/or running effective office operations, administrative support, and communication systems.
You have strong written and verbal communication skills.
You have strong interpersonal and organizational skills.
You are detail-oriented with excellent time management skills and ability to manage multiple deliverables.
You have basic proficiency in Microsoft programs such as Word, Excel, Powerpoint, Google apps (Docs, Sheets, Forms, Presentations), Survey Monkey, and navigating databases such as Salesforce. For databases or more advanced technical systems, NELP is willing to train.
You take an organizing-based approach to logistics and operations, including motivating others to respond and conducting the necessary follow-through.
You think creatively and work independently.
You have demonstrated commitment to economic and racial justice and have the ability to work with diverse groups, populations, and businesses.
You have an understanding of issues facing workers of color in low-wage jobs, as well as an interest in supporting organizing.
Written and verbal Spanish-language fluency a plus but not required.
Start Date, Location, Compensation & Benefits: This is a 20-hour per week, two-year time-limited employee position that will be based in Berkeley, California. Start date will be as soon as possible. Wages are competitive within the non-profit sector and commensurate with experience and education based on NELP's collective bargaining scale. A program assistant with a minimum of three years of experience would be paid an hourly rate between $29.75 and $36.54, depending upon education and experience, under our collective bargaining scale. Compensation also includes an excellent comprehensive benefits package, including full coverage of family health insurance, a medical reimbursement plan, vacation and sick leave, and an employer contribution to a retirement plan. This position is in NELP's bargaining unit, represented by National Organization of Legal Service Workers, UAW Local 2320.
To Apply
Submit cover letter, résumé, and three references via http://bit.ly/WorkWithNelp, choosing "California Program Assistant" from the "Position" drop-down menu under "Application Information." If you have questions regarding this announcement, please forward those to nelp@nelp.org, noting "California Program Assistant" in the subject line. No phone calls or other email inquiries please. Applications due by April 10, 2020. We will consider applications on a rolling basis and the position is open until filled.
NELP is a 501(c)(3) non-profit organization and an equal opportunity, fair chance, affirmative action employer, committed to building a diverse and inclusive workforce. All qualified applicants will be considered for employment without regard to race, color, creed, national origin, sex, age, disability, marital status, sexual orientation, military status, prior record of arrest or conviction, citizenship status, current employment status, or caregiver status.
WHEN APPLYING: Be sure to indicate that you saw this information at UNIONJOBS.COM.