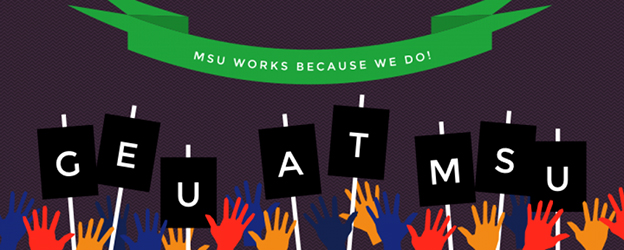 Graduate Employees Union at Michigan State University
AFT Local 6196

Full-Time Organizer
(Benefits Included)
Based at Michigan State University in East Lansing, MI
The Graduate Employees Union at Michigan State University (GEU at MSU) is seeking a Full-Time Organizer to build membership and strengthen member engagement. GEU represents approximately 1300 teaching assistants at Michigan State University. Organizers will report to GEU's executive board, and will follow an organizing plan determined by GEU leadership and staff. The Organizer will be paid a salary of $30,420 for work performed, which will average 30 hours per week, beginning immediately. This position includes health care with vision and dental, a 3% safe harbor contribution to a 401k, and funding for professional development. The position follows the MSU University calendar. Candidates must be able to work a flexible schedule. The positions will be based in East Lansing, Michigan, but may require occasional in-state travel. We will begin reviewing applications immediately and will continue accepting applications until the position is filled.
Duties and Responsibilities: Essential Duties and Responsibilities include the following. Other duties may be assigned:
One-on-one internal organizing, including locating potential, new, and current GEU members, assessing their membership status, following up on previous conversations, and identifying potential activists through a variety of different media
Motivating GEU members and setting an example in organizing through leadership development and paired organizing
Coordinating with existing workplace leaders on organizing plans
Foster and maintain anti-oppressive institutional culture and organizing practice
Interfacing with the University Administration in regular labor management and grievance meetings.
Keeping detailed notes and managing confidential data
Facilitate grievance intakes with students relating to contract violations, including issues of harassment and discrimination.
Desired Qualifications:
1 year or more of organizing experience. Experience training organizers preferred.
Proficiency with Microsoft Office Suite and various social media platforms.
Excellent interpersonal skills including oral communication, effective listening, writing, and motivational skills
Self-motivated, responsible, organized, professional and detail-oriented
Commitment to developing an understanding of labor history, the history of the GEU, current issues in higher education, and a practice of anti-oppressive organizing.
Commitment to developing and refining facilitation skills
Ability to approach problems creatively and innovatively
Skills and/or training in active and empathetic listening (e.g., in response to people experiencing emotional distress)
GEU is an affirmative action employer. Women, people of color, members of the LGBTQ+ community and other underrepresented groups are highly encouraged to apply. GEU values the diversity of the people we hire and serve. We aim to foster a workplace that fully develops and utilizes each person's talents and strengths.
To Apply:
Please submit a cover letter, résumé, and contact information for at least three professional references in a PDF format with your last name as part of the file name to: president@geuatmsu.org, using the subject line: "GEU Organizer." Deadline to apply is April 13, 2020.
WHEN APPLYING: Be sure to indicate that you saw this information at UNIONJOBS.COM.