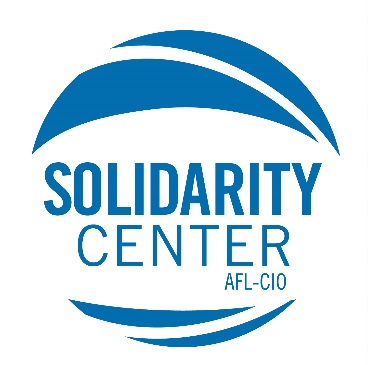 Solidarity Center

Program Assistant
Rule of Law Department / Communications Department
Based in Washington, DC
The Solidarity Center is the largest U.S.-based international worker rights organization. Its programs are based on the principle that, by exercising their right to freedom of association and forming trade unions and democratic worker rights organizations, working people can collectively improve their workplaces, call on governments to uphold laws and protect human rights, and be a force for democracy, social justice and inclusive economic development. Its programs in more than 60 countries focus on human and worker rights awareness, union skills, occupational safety and health, gender equality, migration and human trafficking and pro-legal strategies, as well as bolster workers in an increasingly informal economy. Founded in 1997 by the AFL-CIO to tackle the enormous challenges workers face in the global economy, the Solidarity Center works to promote democratic rights and respect for workers; raise public awareness about abuses of the world's most vulnerable workers; and, above all, help the world's workers secure a voice in their societies and the global economy.
Summary of Position: This is an entry-level program position for an individual aspiring to develop the skills and knowledge needed to become a Program Officer and Program Director. This is a 50/50 position, split between the Rule of Law and Communications Departments. The Program Assistant must stay current on U.S. and global political, economic, social and labor movement developments. At the direction of the Rule of Law (ROL) Director and Communications Director, based on the needs of the Center, the Program Assistant may be assigned to either program office. Under their guidance and with an attention to detail, the incumbent drafts proposals and reports; handles multiple tasks related to program development and production of communications products; and helps with travel arrangements and the payment of vendors. The Program Assistant prepares and exchanges information with other sections of the Solidarity Center, as required, and may be asked to attend meetings or conferences on behalf of the Solidarity Center.
Basic Qualifications: A Program Assistant must have basic knowledge of international relations issues. Previous union experience is highly desirable. Good communications and writing skills are a must. Basic computer literacy for word processing and simple spreadsheets is required. A Program Assistant must have the ability to work and interact easily with a wide variety of people. A degree in political science, international relations, journalism/mass communications, labor relations or related fields and/or a minimum of three years pertinent work experience is required. Fluency in a foreign language is a plus and may be required for some program assistant positions.
Supervisor: Rule of Law and Communications Directors
Specific Duties:
Conduct issue research;
Draft and edit proposals, reports, letters, and other correspondence;
Help with production of the daily news digest, Media Mentions;
Respond to field office requests for information and resource materials;
Coordinate activities with the Solidarity Center's other program and functional offices;
Relate to outside organizations;
Juggle various tasks and meet deadlines; and
Perform routine, basic administrative tasks and other related duties as assigned
Apply HERE!
The Solidarity Center is an Equal Opportunity Employer. Women and minority candidates are strongly encouraged to apply.
WHEN APPLYING: Be sure to indicate that you saw this information at UNIONJOBS.COM.