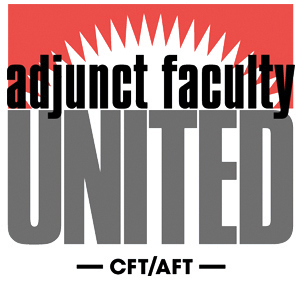 Adfac United
(Adjunct Faculty United)

Executive Director
Based in Fullerton, CA
(North Orange County Community College District)
The Executive Director is a full-time position reporting to the Adjunct Faculty United (Adfac United) Executive Board which represents part-time professionals of the North Orange County Community College District.
Primary Job Duties and Responsibilities include but may not be limited to:
Assist in maintaining, interpreting, and enforcing all bargaining unit contracts and MOU's (Memorandums of Understanding) pertaining to Adfac United.
Assist in negotiating collective bargaining contracts for Adfac United, including designing and conducting member contract surveys, communicating negotiations updates to the membership, and collecting research related to labor contracts.
Assist in filing grievances and unfair labor practice charges, represent members through all steps of the grievance process with assistance from legal counsel as necessary.
Make monthly visitations to meet with the membership at each site.
Assist in the development of organizational programs and training designed to build and support a Site Representative "Site Rep" structure.
Assist in scheduling and conducting monthly meetings with the Executive Board, Site Reps, and others as necessary.
Maintain that day-to-day activities of Adfac United including answering the phone, responding to emails, paying bills, etc.
Adhere to all CFT financial standards including completing necessary deliverables, per caps, etc.
Regularly attend scheduled Board of Trustee meetings at the direction of the president.
Maintain liaison with the Board of Trustees.
Remain current with all appropriate state laws, administrative rules, and regulations that impact Adfac United's operations and responsibilities as the bargaining agent.
Maintain and develop communication with key community, state, and labor leaders such as OCLF, CFT and AFT.
Attend state and national conventions, conferences and workshops as assigned.
Assist with internal organizing.
Other Duties include but may not be limited to:
Assist in get-out-the vote and other related political activities as assigned.
Develop and implement a vigorous and ongoing internal membership recruitment program.
Supervise and maintain the membership database.
Serve on Adfac United committees as determined and assigned by the Adfac United President.
Carry out policies, positions, and decisions of the Adfac United Executive Board as assigned.
Maintain the AdfacUnited.org website with relevant and current information.
Required Qualifications
Ability to work flexibly as needed. This may include evening and weekend hours in order to accommodate unit member schedules.
Ability to work both independently and within teams including a variety of members, staff and elected representatives.
Ability to work cooperatively and respectfully with a wide variety of people.
Ability to handle fast-paced and high-pressure work environments.
Excellent written and verbal communication skills.
Ability to accurately and coherently compose correspondence, grievances, memos, and bargaining language.
Ability to demonstrate discretion in handling sensitive personnel information.
Familiarity with computer programs such as: MS Office including Excel, Word, PowerPoint, and Google Suite.
Ability to lift, push and/or pull up to 25 pounds.
Must be able to safely bend, stoop, reach, and stand for prolonged periods.
Visual acuity to read fine print, computer screens and printed material.
Sufficient hand-eye-arm coordination to file documents, use a keyboard as well as operate a variety of office equipment.
Auditory ability to carry on conversations, project voice in person and over the phone to both large groups as well as individuals.
Desired Qualifications
Working knowledge of public education law, structures, and policies.
Working knowledge of the North Orange County Community College District organizational structures and policies, and the Collective Bargaining Agreement.
Desired Education & Experience
Possession of a Bachelor's Degree from an accredited institution.
Understanding of Human Relations protocols and related laws.
Experience in labor organizing, contract negotiations, union representation, or other similar/related work.
In lieu of the above: demonstrated transferable education or work-experience skills.
Salary & Benefits
Current salary range is $55,020 to $66,948 based upon full-time employment. Starting salary will be determined by experience and level of education.
Negotiated benefits include:
Vacation days starting at 12 accrued days per fiscal year
Medical plans - PPO and two HMO plans to choose from
Dental Insurance
Vision Insurance
Sick leave as outlined in the CA Educational Code
21 paid holidays per year
To Apply
Submit cover letter and résumé to: tcobb@adfacunited.org.
Adjunct Faculty United is committed to equal opportunity in educational programs, employment, and all access to institutional programs and activities." "Adjunct Faculty United does not discriminate unlawfully in providing educational or employment opportunities to any person on the basis of race, ethnicity, gender, gender identity, gender expression, religion, age, national origin, sexual orientation, marital status, medical condition, pregnancy, physical disability, mental disability, military or veteran status, genetic information or because he/she is perceived to have one or more of the foregoing characteristics. In addition, there will be no preference or bias based on association with a person or group with one or more of these actual or perceived characteristics.
WHEN APPLYING: Be sure to indicate that you saw this information at UNIONJOBS.COM.