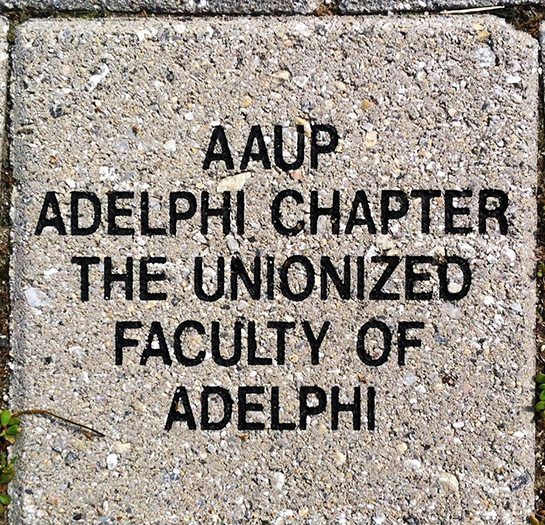 AAUP
American Association of University Professors
Adelphi University Chapter

Executive Director
Based in Garden City, NY
The Adelphi University Chapter of the AAUP is the collective bargaining representative for the full-time and part-time faculty of Adelphi University. For nearly 50 years, the AAUP has worked to advance its mission; to represent the professional interests of all faculty, to advance the standards and ideals of the profession, to improve the terms and conditions of employment through collective bargaining and to further higher education and scholarly activities in concert with students, staff, administration and the Board of Trustees.
The Executive Director is responsible for carrying out the day-to-day activities related to running the Chapter office, serves as a primary resource for faculty seeking advice or advocacy, monitors compliance with all provisions of the collective bargaining agreement and works closely with and reports to the elected Executive Committee in order to advance the goals and mission of the organization.
Duties and Responsibilities:
Membership
Advise membership on their rights and obligations under the contract.
Develop and implement organizing campaigns to maintain and increase membership awareness and engagement.
Periodically meeting with faculty individually and in groups to ensure good communication and transparency.
Cultivate key relationships with stakeholders across the University in order to advance the mission of the organization.
Communication
Manage daily communication to and from the Chapter office.
Oversee the promotional communications that are produced to provide information to the membership, including newsletters, blogs and the Chapter website.
Monitor communications from members in order to assist the Full Leadership in formulating communication strategy with the membership.
Grievance
In collaboration with the President and Vice President for Grievance, oversee faculty complaints and grievances from preliminary stages through final determination.
Compile documents and records in support of grievance and arbitration
Serve as advocate to faculty who are charged with contract/policy violations and/or are at risk of being disciplined.
Collective Bargaining
Work with Full Leadership to identify key issues and priorities for negotiation and to identify and train members of the Negotiating Team and ad hoc contract committees.
Coordinate communications and pre-negotiation activities including membership surveys, department meetings and full membership meetings.
During active negotiations assist with compiling information requests, formulating proposals, monitoring counter-proposals and identifying members with necessary expertise to assist Negotiating Team.
General
Maintain Chapter records, member database and salary information.
Supervise part-time and temporary workers and serve as liaison to outside contractors and consultants.
Schedule all meetings, secure necessary resources and manage the Chapter's calendar.
Qualifications:
Bachelor's Degree required; Master's degree in related field is preferred.
Working knowledge of labor relations and issues related to academic freedom.
Experience working for a not-for-profit organization; experience in Higher Education is preferred.
Demonstrated ability to independently manage multiple and diverse tasks while paying careful attention to details and deadlines.
Ability to foster and maintain critical relationships with members, admin
Labor organizing, political organizing and/or community organizing experience.
Location:
Garden City, NY
Compensation:
Competitive salary, including benefits, and generous vacation time.
To Apply:
Send résumé and cover letter, stating why you believe you would be a good fit for this position, with the subject line, "Executive Director Position" to: cleaver@adelphi.edu.
AAUP is an equal-opportunity employer and committed to equal opportunity for all employees and applicants and encourages applications from all qualified candidates. As a proud Equal Opportunity Employer (EOE), we do not discriminate based on race, color, national origin, ancestry, citizenship status, religion, sex, sexual stereotyping, sexual orientation, gender, gender identity, gender expression, age, marital status, mental or physical disability, medical condition, genetic information, military or veteran status, pregnancy (which includes pregnancy, childbirth, and medical conditions related to pregnancy, childbirth, or breastfeeding), or any other protected category recognized by state, federal or local laws.
WHEN APPLYING: Be sure to indicate that you saw this information at UNIONJOBS.COM.