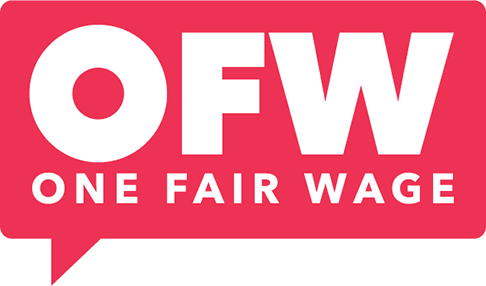 Pennsylvania One Fair Wage

Lead Organizer
Covering Pennsylvania

About One Fair Wage
The One Fair Wage campaign is a national campaign to eliminate the subminimum wage for 6 million tipped and subminimum wage workers across the country through state and federal law. The campaign was founded by the Restaurant Opportunities Centers (ROC) United, a national restaurant workers' organization, as the majority of tipped workers work in restaurants. Today, One Fair Wage legislation is moving in about ten states and in Congress.
In key battleground states, One Fair Wage policy has proved to not only be important to raise wages and reduce sexual harassment for a mostly female workforce of tipped workers, but to also motivate hundreds of thousands of low-wage restaurant and other tipped and subminimum wage workers to vote. In Michigan, we used One Fair Wage as the hook for a relational voter program to mobilize 20,000 restaurant and other low-wage worker voters and increase low-wage worker voter turnout from 12% in 2014 to 37% in 2018.
We are looking for a Lead Organizer to manage the One Fair Wage campaign in Pennsylvania and lead the 2020 relational voter program there to flip the state legislature and thus help us win One Fair Wage. The Lead Organizer will build out a team of canvassers to run a large relational voter program that will ultimately build low-wage worker power to demand One Fair Wage in Pennsylvania.
One Fair Wage PA Lead Organizer Responsibilities:
Lead the One Fair Wage PA campaign, including leading a local coalition of organizations representing various tipped worker sectors, developing and implementing a legislative targeting strategy, conducting press events and other communications efforts, and more.

Lead the One Fair Wage PA relational voter program from fall 2019 until November 2020, building out a team of canvassers who will develop more than 10,000 restaurant and other low-wage worker champions who will each contact 5-15 of their peers in the restaurant industry using the Organizing Empowerment Project app, resulting in 55,000 total restaurant and other low-wage worker champions reached.

Use the relational voter program to flip key PA Senate and Assembly seats and thus establish worker power to win One Fair Wage in the PA legislature in 2021.

Represent One Fair Wage to other institutions, press, and priority relationships and lead local implementation of national communications and mobilization plans;

Supervise the relational voter program canvassers.
The Lead Organizer position is intended to be a senior-level, experienced position. The Lead Organizer will report directly to One Fair Wage Campaign Director.
QUALIFICATIONS:
7-10 years labor/community member organizing, voter engagement, and base-building experience;

Experience in coalition building, and understanding of member leadership development;

Experience in designing policy and policy campaigns;

Maintenance of a professional attitude and strong ethical practice and a willingness to learn and grow

Strong communication, leadership, and management skills;

Willingness to travel – mostly throughout the state of PA, and periodically out of the state;

Demonstrated commitment to racial, social, and economic justice; and significant experience working collaboratively with persons of diverse racial and ethnic backgrounds, socioeconomic status, ages, and sexual orientations

Restaurant work experience a plus; and

Fluency in another language preferred.
Women, people of color, and immigrants strongly encouraged to apply.
To Apply:
Send résumé to: johnpokeefe@hotmail.com
John O'Keefe
O'Keefe Search
336-350-8337
johnpokeefe@hotmail.com
O'Keefe Search is dedicated to building strength in progressive organizations and to
helping social justice, labor, environmental and other progressive activists find the right job.
WHEN APPLYING: Be sure to indicate that you saw this information at UNIONJOBS.COM.