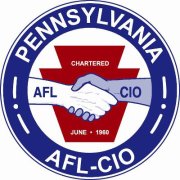 Pennsylvania AFL-CIO

Legislative Director
Based in Harrisburg, PA

Successful applicant must relocate to, or live within 50 miles of Harrisburg
Excellent Benefit Package
Salary: Commensurate with experience
RESPONSIBILITIES:
The primary responsibility of the Legislative Director is to advocate, monitor and evaluate, on a continuing basis, pending legislation at the state level that may have an impact on the labor movement of Pennsylvania. Requires working on federal issues as needed by the National AFL-CIO and National Affiliates, and to work with CLCs on local issues of interest. Present a legislative report or update to the President, Secretary-Treasurer and Executive Council as needed. Inform elected officials of the Pennsylvania AFL-CIO's position on legislation affecting the Pennsylvania's labor movement. Work in close cooperation with the Officers of the organization, communications department, and political department in carrying out these tasks. Other duties may be expected or required as necessary or as requested.
The responsibilities will vary as determined by election cycles and legislative sessions, however the primary job functions will be as follows:
Performs lobbying activities and testifies as necessary.

Track and maintain legislation in the Pennsylvania House and Senate.

Keep labor organizations informed about pending legislation.

Plan and Conduct weekly labor lobbyist meetings during legislative sessions.

Assists with legislative initiatives in support of a variety of union campaigns.

Represents the PA AFL-CIO, as needed, on boards or committees, as well as in meetings with affiliates, partners, and political campaigns.

Assist in organizing issue-oriented campaigns for legislative action.

Build and manage legislative grassroots campaigns.

Maintain alliances and contacts with affiliated unions.

Drafting correspondence and flyers announcing PA AFL-CIO positions on legislation.

Plans and/or provides support in implementing public events and rallies.

Assist in planning PA AFL-CIO events (conferences and conventions).

Develops on-going relationships with a variety of allied organizations.

Coordinates strategic legislative and political campaigns (including working with external consultants) and assists with statewide planning on electoral activities.

Maintain legislative voting records.

Review and recommend attendance for political fundraisers.

As necessary, participate in and/or staff phone banks and walks.

Plan, coordinate, and oversee biennial Legislative Conference.
PRIMARY KNOWLEDGE, SKILLS AND ABILITIES:
Understanding of Pennsylvania's legislative process and history.

Strong administrative and organizational skills, including the ability to work with a diverse group of individuals from government, faith institutions, grass roots organizations and non-profits.

Understanding of unions is desirable.

Experience with AFL-CIO or its affiliates.

Comfortable and effective with public speaking.

Experience writing for public policy and proven ability to communicate clearly and effectively.

Commitment to social justice and workers rights.

Knowledge of the political landscape of Pennsylvania.

Interest in political organizing and electoral campaigns.

Able to plan and implement projects independently or in coordination with PA AFL-CIO staff and/or partners.

Some travel required and ability to work nights and weekends as needed.

Experience with Microsoft Office Products required.

Valid Driver's License and automobile off the UAW auto list
TO APPLY - please provide the following:
Résumé reflecting qualifications for this position

A Letter of Application addressing accomplishments in your career which pertain to your qualification for this position.
SEND TO:
Pennsylvania AFL-CIO at: HR@paaflcio.org.
The Pennsylvania AFL-CIO is an Equal Opportunity Employer
WHEN APPLYING: Be sure to indicate that you saw this information at UNIONJOBS.COM.