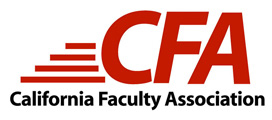 California Faculty Association
(affiliated with AAUP and SEIU)

Director of Governance Support & Events
Based in Sacramento, CA

CFA is a union of 28,000 faculty members, librarians, counselors and coaches of the California State University (CSU) system. In classrooms on the 23 CSU campuses, CFA members work hard to teach our students the critical-thinking skills, the technical know-how and the cultural insights they need to be thoughtful, productive and artistic participants in our society.
In its role as the exclusive collective bargaining representative, CFA negotiates a contract with the CSU administration that promotes academic freedom, upholds faculty rights, delivers financial protection for the faculty, and promotes faculty participation in the governance of the CSU. CFA is proud to be a member-run union and believes in employing hard-working and creative staff whose talents complement those of our elected leadership. Implementing our union's vision requires the best staff team we can find to build on the talent that already works with us. For more information about CFA, visit our website at: www.calfac.org.
Director of Governance Support and Events
CFA is seeking a Director of Governance Support and Events to join our management team. This position is a management level position with overall responsibility for formulating and implementing CFA's governance rules and its statewide meetings and events. The candidate will have experience managing staff and organizing large events, as well as demonstrated ability to develop policies and procedure is required.
The ideal candidate will be experienced working in the labor movement or related social justice organizations and actively contribute to CFA's commitment to anti-racism and social justice. The candidate must be able to use his/her/their commitment to anti-racist and social justice values and be able to infuse these values into the work of CFA.
Essential Job Duties:
Committed to anti-racism and social justice and must intentionally work to infuse anti-racist and social justice values into the everyday work of CFA.

Supervise the implementation of CFA and chapter bylaws;

Review and advise regarding CFA and chapter bylaws;

Ensure compliance with chapter bylaws, including assembly delegations, voting, and assigned time;

Review and negotiate with vendors on proposals for catering and when necessary off-site locations within budgetary guidelines for CFA meetings;

Supervise and coordinate with Event Planner to secure payments to venues, hotel and caterers;

Supervise the event planning process;

Oversee the management of the event planning process, including collaboration with vendors, venue identification, processing registrations, menu development, preparing of materials and budget development and tracking.

Assist Event Planner with venue selections that meet organizational needs in both cost and function, and maintain effective relationships with those venues.

Oversee and/or create summary reports of each event outlining how data gathered can be used to develop successful future events

Review the pre and post-event analysis of the event to be able to plan properly and improve the events;

Provides on-site direction at events and assists the Event Planner to "problem-solve" on the day of the event;

Provide onsite supervision for CFA's events as well as assist the event team;

Collaborate with other departments to support program growth and functions;

Suggest new processes or procedures for working more efficiently and effectively, particularly through the use, of innovative technologies;

Supervise Event Planner and other support staff; and

Develop and maintain productive relationships with CFA officers, members, interns and staff.
The ideal candidate for our team will have the following knowledge, skills, and abilities:
Ability to handle confidential information with proper discretion;

Ability to work long (more than 8 hours in a day) and irregular hours;

Ability to travel for extended periods (up to 1 week) during events;

Detail-oriented, and a conscientious self-starter;

Ability to work independently;

Outstanding organizational and time management skills and the ability to manage multiple tasks simultaneously

Ability to supervise and motivate staff;

Must have good analytical and problem-solving abilities;

Strong interpersonal skills, including the ability to work as part of a team and build a strong professional network.

Ability to work collaboratively and strategically with CFA officers, members, interns and staff;
Requirements:
Dependable;

A strong commitment to advancing racial and social justice transformation;

Experience implementing, administering and developing organizational policies;

Excellent written and verbal communication skills;

Prior experience as an event planner organizing large events;

Prior experience developing budgets;

Demonstrate excellent analytical, oral and written communication skills;

Prior experience supervising staff;

Computer Skills: Adept at using Windows, & the Microsoft Office Suite (Word, Excel, PowerPoint, Outlook, etc.)

Ability to travel for extended periods (typically 4-5 times per year for up to one (1) week) and work long (more than 8 hours in a day) and irregular hours, including some evenings and weekends.

Experience using online registration tools a plus; and

Prior experience working as a manager of an organization a plus.
Other Requirements:
Valid driver's license, an automobile for business use, and proof of minimum insurance coverage.
Ability to lift 25 lbs.
Salary/Benefits/Location: CFA offers a fully paid benefit package including medical, dental, vision and generous paid vacation. The position is based in Sacramento, California.
To Apply:
Send cover letter, résumé, references, and a writing sample to: searchcommittee@calfac.org.
CFA is committed to anti-racism and social justice. Women, People of Color/Native People, members of the LGBTQIA community, and people with disabilities are strongly encouraged to apply.
WHEN APPLYING: Be sure to indicate that you saw this information at UNIONJOBS.COM.