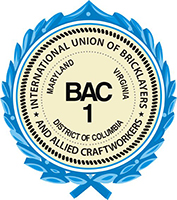 Bricklayers & Allied Craftworkers Local 1 MD, VA & DC

Field Organizer
Covering MD-DC Region, DC, and Northern Virginia

Job Title: Field Organizer
Company: Bricklayers & Allied Craftworkers Local #1 MD, VA & DC
Location: Washington, DC
Location: MD DC Region, DC and Northern Virginia. This is a full-time position.
Salary/year: 44-50 K depending on experience.
Job Type: Full-time
Job Description
Benefits: healthcare; paid federal holidays, sick leave, and vacations. Training and support from experienced Field Representatives will be provided (may range from one to four weeks depending on prior experience). The Compliance Office will provide training on pertinent prevailing wage laws (federal, state, and local), Unfair Labor Practices, OSHA violations, our collective bargaining agreements, and organizing-related laws.
We will provide--upon satisfactory completion of the training period-- company car for field visits, laptop, and cellphone. Must have a valid driver's license, must pass DMV check and have a good driving record.
The Ideal Candidate:
You will be in charge of the BAC Local 1 Organizing Campaign; to us, this means that you will step in with the required essential skills, knowledge, and experience to understand your role as a labor union field organizer and deliver results. You must be fluent in Spanish (written and spoken). You must understand the nature, and implications of the organization's hierarchies, and how these interrelate to your function as BAC Local 1 Field Organizer.
You must be comfortable following orders and receiving positive/constructive criticism. The ideal candidate values productivity, creativity, and contributes meaningful suggestions on how to consistently improve operations while maximizing resources. And, most importantly, you must understand that we value a solid work ethic and your ability to design and implement an effective organizing plan.
Progress is evaluated on a weekly basis by means of weekly reports, and quarterly organizing reports. Support will be provided during the early stages, i.e., during the first one to four weeks.
We expect the BAC Local 1 Field Organizer to succeed in the following BAC Local 1 immediate organizing goals (1)Sign a new union contractor; (2) Engage key DMV owners and developers in charge of public, and private construction projects in order to foster relationships of trust and business partnerships; (3) Monitor Field Representatives organizing duties for progress and consistency; and (4) Collaborative approach when working with the President and the Compliance Office to precisely report your progress on a weekly basis, and co-author and contribute to quarterly organizing reports.
Educational Background: Bachelor's Degree preferred.
Must be able to able to lift 40 lbs. and stand for up to 2 hours in cold and hot weather, occasionally.
Detailed Breakdown of Duties and Responsibilities: Performs a wide range of duties as assigned by the Union, including but not limited to the following:
Field visits: to public, private and/or Signatory Contractors projects. Document observations, the information provided during visits that are key to the Organizing Campaign and interact with the project's key personnel as it relates to the campaign, including but not limited to GC's employees, Foremen, Superintendents, and workers.
Employees List: Collect Target Companies' employee names and maintain contact with them.
Recruitment & Leadership Development: Construct worksite leadership structures through the recruitment, training, and support of stewards and other union leaders. Engage members in union activities and political campaigns. Regular one-on-one contact with members will be required.
Communication: Develop relationships with members in assigned jurisdictions through personal visits, flyers, newsletters, phone calls, mailings, and meetings.
MUST BE FULLY BILINGUAL (English and Spanish): Interpret collective bargaining agreements and other relevant laws, codes, regulations, policies, and practices and assist union members in understanding their rights.
MUST KNOW HOW TO handle grievances and reporting OSHA violations, prevailing wage violations, overtime and misclassification cases to the President and Compliance Office.
Issue Campaigns (OSHA, Prevailing Wage, Misclassification cases): Mobilize members to participate in worksite actions as needed, including petitions, group grievances, protests.
Administration: Maintain a calendar that accurately documents past, present, and future activities, visits, and appointments in connection with work as a field representative. Maintain accurate files, as required by Supervisor.
Microsoft Office: must be proficient in Microsoft Office. This includes Outlook, Excel, Word and on some occasions (while not as important as the first three) PowerPoint. Must be able to diligently and promptly address emails.
Scope and Nature of Supervision
Must be able to act and organize time.

Must be able to handle multiple "priority" projects simultaneously and meet established deadlines.

Reports to the Compliance Office and the President.
This position is part of a Collective Bargaining Agreement (CBA) and as such the incumbent is bound by the language of said agreement and party to all benefits, dues, and requirements associated with being a member of a union and the (CBA).
Relocation costs are not covered by BAC.
Applicant Qualifications (all 1-3 must be answered in the affirmative):
Are you able to work in Washington, DC?

Are you authorized to work in the following country: United States?

Are you willing to undergo a background check, in accordance with local law/regulations?

When are you available for an interview or phone screen? Please list 2-3 dates and times or ranges of times.
To Apply:
Email résumé to: mserrano@baclocal1.org.
WHEN APPLYING: Be sure to indicate that you saw this information at UNIONJOBS.COM.