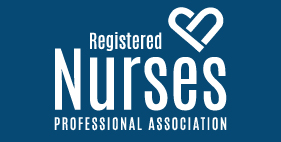 Registered Nurses Professional Association

Association Representative
Based in San Jose, CA

The Registered Nurses Professional Association (RNPA) is 3000 strong nurses' union. As the voice for all registered nurses in Santa Clara County, California advocates for nurses and their patients at the three hospitals, clinics, and custody settings.
Duties include: preparing for and conducting collective bargaining, grievance processes and arbitrations; working with and developing member leaders to represent nurses in employment-related matters; and building an effective organization with a high percentage of union membership to have the power to fight and win improvements both inside the workplace and outside on main street.
The ideal candidate has had prior experiences working full time to represent nurses with demonstrated success at contract negotiations and grievances, running effective contract campaigns, organizing membership participation by developing and implementing strategies to involve union members in activities that build the union's capacity to effectively represent nurses- including internal communications and external relationship-building with political allies, the community, and other constituents.
Experience representing other occupations and industries will be acceptable as appropriate. A Bachelor's degree is required, and advanced degree is preferred. This position is based in San Jose, CA.
Salary and Benefits: Excellent salary range depends on experience, and other benefits offered.
To Apply:
Send résumé and cover letter to RNPA at: exec@rnpa.net. We will start interviews 3 or 4 week of January 2020.
WHEN APPLYING: Be sure to indicate that you saw this information at UNIONJOBS.COM.