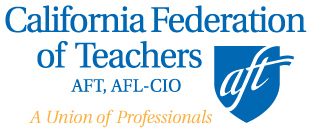 California Federation of Teachers, AFT, AFL-CIO

Administrative Assistant
Technology
Based in the CFT Burbank, CA office

Position: Administrative Assistant – Technology
Employment starts: January 2, 2020
Location: Based in the CFT Burbank Office.
Salary range: Start: $25.89 per hour; 6 Months: $29.59 per hour; 1 Year: $36.99 per hour. Plus full employee fringe benefit package: health, dental and vision plans and retirement 401-K and pension programs.
Deadline to apply: November 22, 2019
Job Summary:
The Administrative Assistant – Technology, under the minimal supervision of the Data Management Specialist, assists in developing and updating various CFT Websites and provides technical assistance. The position requires technical, interpersonal, and organizational skills necessary to coordinate the latest technologies among staff and local leaders. The Administrative Assistant – Technology must have knowledge of the structure and mission of the California Federation of Teachers.
Duties and Responsibilities:
Responsible for the development and maintenance of various websites.

Provides technical assistance in web technologies

Provides technical assistance in troubleshooting software and hardware problems.

Installs and configures desktop client/server software and hardware

Data Entry and Manipulation

Installs and maintains network infrastructure components such as cabling, routers, switches, patch panels, firewall, and servers.

Assist in writing technical documentation and procedures

Maintains accurate operating statistics

Performs other related duties as required
Qualifications:
An associate of arts degree or its equivalent in business, computer science or a related field, or 24 units in business or computer science, and two (2) years of full-time technical support in website design and maintenance.

Proficient in HTML/CSS

Knowledge of website content management systems (WordPress); PHP, MySQL, and MVC; Social media and web technologies; Client/server operating systems; MS Office and Access

Ability to track web and report analytics

Ability to provide technical assistance to customers

Ability to stay up-to-date with the latest technologies

Ability to organize and coordinate projects through completion

Ability to review source data, detect and correct errors

Ability to work effectively with internal and external customers

Ability to understand, interpret and apply rules, policies and procedures

Ability to prioritize, schedule work, and follow instruction

Ability to work quickly and independently

Ability to problem-solve and troubleshoot

Strong written and interpersonal communication skills

Advanced computer skills
Physical Demands and Working Conditions:
Minimal moving of computers and installation of network infrastructure

Occasional driving/travel

Repetitive typing motion
Essential Duties:
Coordinates and prioritizes the work flow of technical request

Create and update websites

Data Entry and Manipulation

Manages and operates computer and network infrastructure
To Apply
Submit letter of application, résumé, references and one sample of the applicant's written prose to:
California Federation of Teachers, AFL-CIO
Attn: Leticia Castro
1107 9th Street, Suite 460
Sacramento, CA 95814
Or email to hr@cft.org
If you have any questions, please call or email Sarah Callahan, Executive Director at 510-523-5238 or scallahan@cft.org.
The CFT is an equal opportunity affirmative action employer.
WHEN APPLYING: Be sure to indicate that you saw this information at UNIONJOBS.COM.